---
23-24 NOV 2013 -- TERRIERS TERRORIZE DOGS
It was a dog eat dog match all the way. Edward brought his English Pit Bull and Black Dog didn't bring enough. Edward's first team appearance on the field with his new shirts, and it was a resounding victory after two days of play. Very close match with Black Dog Eric Barthe lending a hand to the Terriers on day one. James Bean playing tremendous polo and Khun Ploy proving lethally accurate in front. On the second day, both teams were shooting relentlessly on goal, with near misses. As the dust settled, it was the English Pit Bull left standing in the back of Ed's car. Great fun friendly match to get the horses ready for All Asia Cup.
---
30-1 DEC -- PHILIPPINES TO PLAY TRI-NATIONS
Mikee Romero will be bringing his team to Thailand to challenge a Thai National team in a pre-All Asia Cup meeting this weekend. This ia a fully TPA sanctioned event, so we will see the NEW TPA CARD machine in action in-shallah. This is a Tri-Nations Cup, so there will be a third mystery team on the field. Khun Stijn was rained out of the SPP Cup, so he has confirmed that he will be returning for this famous meeting. Kukin and Aor are working to assemble the 3 teams and this will be an exciting opportunity to see what Mikee's Philippines team will have in store for us at the All Asia Cup.
| | | |
| --- | --- | --- |
| No says "Yes" to Khun Anil from Malaysia | Tactical Advisors to Bangkok Terrier Team | Tsu with new haircut recovering from injury |
---
NOV 2013 -- TPA HANDICAPS CONFIRMED
The TPA Handicap Meeting was held on the field over 10-11 Nov 2013 during the opening weekend of polo at SPP. The TPA has cancelled TPA Handicap meetings on 10 and 17 Oct, so the meeting was held on the field and the results were sent to TPA for promulgation. We will post the revised handicaps as soon as we receive them in the correct format from TPA.. The good news is that TPA has announced that the new TPA Handicap Card making machine has arrived on 14 Oct. Any polo player who plays in a TPA tournament will receive a free official TPA handicap card with their name, polo handicap, and photo. Any questions -- TPA@siampolonews.com
---
9-18 JAN 2014 -- ALL ASIA CUP -- EIGHT TEAMS CONFIRMED
Eight teams have confirmed their participation in the 2014 All Asia Cup. This tournament is held to show the world that Asia is united in its commitment to improving the standard of polo across Asia, so that one day, polo may return as an Olympic Sport. The All Asia Cup will be held from 9-18 January 2014 with 8 national teams (2-4 goal) at the VR Sports Club and Siam Polo Park near Bangkok. The following teams have confirmed -- Indonesia, Brunei, India, Korea, China, Thailand, Philippines, Mongolia. The All Asia Cup is famous because this tournament concentrates on a fair distribution of horses between the teams and unbiased umpiring from Senior HPA umpires. The horses are numbered, divided into categories, and drawn by the team captains from a hat. This tournament is played under HPA rules and officiated by Senior HPA Umpires. The Tournament is played with two Groups. Group A and Group B have 4 teams in each group. Each team will play all three other teams in their group. A win is 3 points. A tie is 1 point. The top two finishing teams on points will meet and play the Subsidiary Final and the Final on Saturday 18 January under the lights at VR Sports Club followed by a Gala Dinner. TEAM PLAYER QUALIFICATIONS -- All team members must hold a valid Passport from the country that they are playing for, or they must hold a Birth Certificate and ID number from that country.
TEAM DEPOSIT
The Total Cost of the All Asia Cup per team is US$12,000 per team. This covers all Horses, Umpires, Team Jerseys, Dinners and drinks. A deposit of us$4,000 is due on 15 October to confirm your team in the All Asia Cup 2014. BANK DETAILS for deposit to Thailand Polo Association. If you have any questions -- info@siampolonews.com -- Team deposits received from Korea, Mongolia, Indonesia, Korea (10 Oct 13).
PULLMAN HOTEL
If you would like to stay in the Pullman Hotel, the special room rate for polo players and team supporters is 3,600 Baht per night. The Team Van for each team will be 2,500 Baht per day (which includes driver all day). If you are interested in booking your hotel or team van, please Email Khun Nut and tell him what date your team will arrive, so he can instruct TPA to coordinate your pickup and hotel room.
---
GROUP A - will play on 9, 10, 11 January
Philippines exploded onto the Thai polo scene last year and have proved that they will be a sturdy contender in this year's All Asia Cup. Mikee Romero is a sportsman-businessman from the Philippines. He is currently the Chairman of Philippine companies: Globalport 900, Zest Airways, Air Asia Philippines, Pacifica, Inc, Harbour Centre Port Terminal and Manila North Harbour Port. He is in the 2013 Forbes Magazine's Philippines List of Richest Businessman, landing number 26th. In Philippine sports, He headed the Philippine Olympic team during the 2012 London Olympics. He used to head the National Olympic Sports Associations of Shooting, Cycling and Basketball in the Philippines. Mikee has been playing Polo since 2010 bringing the Globalport Polo Team all-over the world. He plays competitive polo in the Philippines, Thailand, China, USA and UK. Adrian Garcia is the younger brother of Anthony Garcia. At 2 goals and 20 years old, he plays most of his polo in America and in the Philippines. Has won the 8 goal governors cup and recently the 12 goal Midwest inter-circuit. He is currently playing in the villages polo club in Florida before returning to Asia for the season. Antonio Veloso has played polo in the U.S.A, Australia, New Zealand and around Asia. He was Captain of the Philippine team in the 2007 S.E.A. games in Thailand and is currently playing for the Global Port polo team. Alex Vicinal is a 1 goal player who comes from a family that has always been around training and conditioning of polo horses. Has worked and played in the Philippines, Australia, Korea and Thailand and is currently playing for the global port polo team. *Handicaps awaiting confirmation by TPA from handicap governing authority in Philippines.
| | | | | |
| --- | --- | --- | --- | --- |
| Mikee Romero (0) | Alex Vecinal (1)* | Antonio Veloso (1)* | Hapon Vecinal (0) | No Reserve |
JB Lee has been working tirelessly to have his team ready for the All Asia Cup. They have been growing rapidly and have recently held the first All Family Cup in Asia showing that polo is a family sport in Korea and that they are determined to improve their play. Korea realizes that this will be a good learning experience for them and their first international competition as a National Team. J.B. Lee is the owner of Korea Polo Country club, the only polo club in Korea. He started polo in 2005 at Singapore Polo Club, then immediately bought a land in Korea to make the fisrt polo club. He is the Chairman of Korea Polo Association. He is 53 yrs old, the oldest and highest handicapped player in Korea as of 2013. Rock Lee is the first son of J.B. Lee, studying in the states, and started polo in 2011. He has played many tournaments in Korea, including the 8 goal Royal Salute Cup, 6 Goal Governor's Cup, and has won most of his matches. Rocky Lee is the second son of J.B.Lee, also studying in the states, and started polo in 2010. At the beginning of Korea Polo Club, he stayed in the club for 6 months and helped his father to play with many visiting clubs like SPC, Nine Dragons Hill. James Lee is a 25 years friend of J.B.Lee, started polo in 2006 at Singapore polo club, but he had about 4 years blank term and started again in Korea Polo Club. He also played all the important polo matches in Korea, and has played in Thailand and Indonesia. He is working as a President of the petrochemical trading company Tychem, and now his son and daughter (both studying in the states) started horse riding to enter into the polo world. David Ko is the first local Korean who learned polo at the Korea Polo Club. Together with his good rival, Jerry Kwak, he is leading the next generation of Korean polo. David works for Skylake Incuvest & Co., as Director, and he has played in Argentina and Thailand.
| | | | | |
| --- | --- | --- | --- | --- |
| Rocky Lee (0) | David Ko (0) | James Lee (0) | JB Lee (1) | Rock Lee (0) |
Shyam Mehta will return with his Indian team who have proved time and again that polo is a gentleman's sport. We are honored to have them back on the field. Shyam Mehta is regular player in Thailand. A lawyer by profession, he has been playing for over 20 years in India, France, Singapore, England and Thailand. He was part of the Indian team that played in the Heritage Cup in England in August 2011 and placed 3rd. Shyam was the powerhouse behind organizing the Indian Polo Team to join the All Asia Cup 2012 where they received a Bronze Medal. Shikhar Pahariya is 16 years old, and at -2 is the youngest member of the Indian team. He is a student and takes polo as a very serious part of his life. He wants to excel in it and reach a high handicap. He played the Asia Cup in Windsor, Uk this past summer and was part of the winning team India. Abhimanyu Pathak at 4 goals is 30 years old and has been playing polo for almost a decade. A mercurial forward who can turn a match around single handed, he has represented the India in many international events and has driven them to many glorious victories. He went with the Indian Polo Team to Zambia to take part in the 14 goal polo tournament in July 2013. Om Singh is 30 years old and at 0 goal has 23 years of riding experience. Starting playing polo in school, Om has played in many countries like South Africa, England, New Zealand, Pakistan, Jamaica and Malaysia. He is a phenomenal rider and boasts a good seat.
| | | | | |
| --- | --- | --- | --- | --- |
| Shikhar Pahariya (-2) | Om Singh (0) | Abhimanyu Pathak (4) | Shyam mehta (1) | No Reserve |
The Mongolian Charge is set to return. Chris Giercke has just returned from the Mongolian Steppe to Kathmandu and has confirmed that his team will be ready. This time, the Mongolian team spent 4 months training with professionals in New Zealand, so we may have quite a surprise in store for us. The Mongolian Team will comprise of 6 players from -2 to 0 goals and they will interchange to gain international competition experience in the spirit of the All Asia Cup. Ich Tenger is 18 years old. He has been playing polo for last 8 years mainly during the summer months in Mongolia. He has participated in the first All Asia Cup in 2012 where Mongolia received a Bronze Medal. He studies in England and is a member of the HAM Polo Club. Bilguun Buyanjargal (Uune) is 21 years and has also been training and playing for the last 10 years at the Genghis Khan Polo Club in Mongolia. He grew up in the countryside riding a horse everyday herding for his family. He is currently a student in Ulaanbataar, the capital of Mongolia, and has recently returned from New Zealand where he was receiving polo training and this winter, he will be receive more training at the Opianga Polo Club in affiliation with the Wanstead Polo Club in the North Island. D'Artagnan is 16 years old and has played and trained at the Genghis Khan Polo Club in Mongolia, He has international polo experience playing in India, New Zealand, France and England. D'Artagnan is presently a student at Harrow School in England, and is part of the Harrow School Polo Team. The Harrow Polo Team visited Mongolia in the summer of 2012. Rentsensharav Oldokh (Rentsen) is 13 years old and is the youngest polo player on the Mongolian team. For several years, he has been one of D'Artagnan's most loyal polo players and together the two young players have confronted many foreign visiting teams -- including a team from Harvard University in the summer of 2013 and a team from New Zealand. Rinchen is presently part of the Mongol team training in New Zealand, during the winter months, when polo is not being played in Mongolia. The All Asia Cup will be Rinchen's first visit to a country outside of Mongolia. Dolgorsuren Bat-Oyun (Doda) is 14 years old. She is the daughter of a herding family living close to the Genghis Khan Polo Club in Mongolia. From age 6 to 12 years, she excelled in the Mongolian summer Nadaam competitions. She often defeated heavy competiton of older and much stronger boys. Two years ago, she got the attention of Harpreet and Satinder Garcha who adopted her into their polo family, and she was able to train and play in Singapore, India and Argentina. Last winter she was trained for three months in South Island, New Zealand with the familyof Garth Mackenzie. This special hosting by two prominent polo families has enabled Poda to excel, and she is expected to climb the handicap ladder rapidly when she continues her training this winter in New Zealand. Altangadas Tserendorj (Gadsaa) is 28 years old. He is the most senior player in the present Mongolian team. Originally, he specialized in training race horses and also stunt riding. He has been playing and training with the Genghis Khan Polo Club for the last 5 years.

Ich Tenger (0)


Uune Buyanjargal (0)


D'Artagnan (0)


Rentsen (-2)


Doda (-2)
Gadsaa (0)
---
GROUP B - will play on 14, 15, 16 January
The China team hails from Tang Polo Club in Biejing. Liu ShiLai is the founder of the Tang Polo Club. He started playing polo in 2005, and progressed rapidly from a -2 to a 1 goal. Mr. Liu is known as China's first registered member within the international polo association and is regarded as China's best player. Liu Nan is a very prominent figure around the Tang Polo Club, always seen training and playing chukkas. He has also played for over 5 years and holds one of the highest handicaps in China, playing off of 0 goals. He enjoys the sport of polo as it allows him to travel to many countries and experience new cultures. Norman Peng is Tang Polo Club's youngest player. He began to learn under the influence of his father who is also a prominent player at the club. He is known as China's firsh youth player and holds high hopes for the growing polo industry in China. Huo Gang, also known as "Mustang" is China's horse whisperer. He is also one of China's most experienced players, with his own 50 horse polo ranch in the beautiful mountains of Beijing. Mustang plays off a 0 handicap and is definitely one to watch in the All Asia Cup.
| | | | | |
| --- | --- | --- | --- | --- |
| Shilai Liu (1) | Huo Gang (0) | Nan Liu (0) | Norman Peng (-1) | No Reserve |
The Thai National Team is back on form. They have been practicing this summer in England and even had a foray on the backs of elephants during the King's Cup. Aiyawatt Srivaddhanaprabha (Top) has represented Thailand and is a very talented player. He was on the Thailand International team for the 2007 SEA Games. He has also played with Prince Chales and Prince William in England. Top has played in Argentina, UK, Dubai and in many international tournaments. Apichet Srivaddhanaprabha (Tal) is an extremely keen polo player and has competed alongside his brother in many international tournaments including the UK, Argentina, Dubai and Philippines. Tal represented Thailand at the 2007 SEA Games when Thailand won the Bronze medal. Natthapong Pratumlee (Nat) is Thailand's highest handicapped player. He has played in UK, Argentina and USA. Where he studied under Reggie Ludwing for two years and is a player on the Thai Nation team. Thanasin Chuawangkham (Tsu) is from Mukdahan and has played for Thailand in the SEA games and in several international tournaments. During the summer, the Thai team travels to England to practice at the King Power polo club near Ascot. Satid Wongkraso (Boon) is an up and coming player. Satid was on the winning team at The Ambassadors Cup 2013. *Handicaps pending confirmation of TPA handicap committee in November 2013.
| | | | | |
| --- | --- | --- | --- | --- |
| Top (1)* | Tal (1)* | Nat (2)* | Tsu (0)* | Boon (0)* |
Probowo Subianto has directed the Indonesian National Team to prepare for the All Asia Cup. This team has been practicing hard and practicing in different clubs to be ready for this event. Novel Momongan is 29 years old. He was born in Mando, North Sulawesi. He has been playing polo for 7 years. He was on the first Indonesian team to compete internationaly at the 2007 SEA Games and he is Indonesia's highest handicapped player. He has competed an impressive number of international tournaments including the 200th Argentine Independence Cup at Nusantara in 2010, The 150 year Anniversary tournament in Kolkata, India, the 2013 Pocari Cup in Korea, and the BP Malaysia Cup in 2013. Acep Krisnandar is 34 years old and comes from Bandung in West Java, Indonesia. He has been playing polo for 7 years and was a member of the first International Indonesian team which competed in the 2007 SEA Games in Thailand. He has joined his team on tour to India, Korea and Malaysia, and he is looking forward to joining the All Asia Cup in Thailand. Billy Lumintang is 29 years old and hails from Mando in North Sulawesi, Indonesia. He has been playing polo for 7 years, and has competed in Thailand for the 2007 SEA Games, two consecutive Argentina Ambassador's Cups in Indonesia, and in Korea, India, and Malaysia. Glendy Bujung is 25 years old and has been playing polo for 5 years. He has been a fast improving member of the Indonesia National Team accompanying his teammates to India, Korea, Malaysia and this will be his first competition in Thailand. *Revised handicaps after consultation with Nico Curto awaiting confirmation by TPA from Indonesian Polo Association.
| | | | | |
| --- | --- | --- | --- | --- |
| Novel Momongan (2)* | Acep Krisnandar (1) | Billy Lumintang (1) | Glendy Bujung (0)* | No Reserve |
HRH Prince Jefri's AHMIBAH Polo Team was one of the first to confirm in this years All Asia Cup and we are looking forward to see them. DYTM Paduka Seri Pengiran DiGadong Sahibul-Mal Pengiran Muda Haji Jefri Bolkiah Ibni Al-Marhum Stultan Haji Omar Ali Saifuddien Sa'ad ul Khairi Waddien (HRH Prince Jefri Bolkiah) plays at the Royal Brunei Polo Club. He is from the first generation of polo players in Brunei and the All Asia Cup is Prince Jefri's first polo tournament in Thailand. He is 59 years old and started playing in 1976. He will be playing #3 on his team. YAM Pengiran Muda Abdul Qawi Ibni DYTM Paduka Seri Pengiran Perdana Wazir Sahibul Himmah Wal-Waqar Pengiran Muda Haji Mohamed Bolkiah (Prince Qawi) is the 39 year old first son of HRH Prince Mohamed Bolkiah and stared playing polo in 1996. He took a break to work overseas, but then resumed playing actively in 2011 in Brunei and Malaysia. He is a member of the Royal Brunei Polo Club and the All Asia Cup will be his first tournament in Thailand. YAM Pengiran Anak Haji Abdul Ali Yil-Kabir Bin PLCSN Pengiran Anak Haji Abdul Aziz (Pengiran Ali) is 37 years old and one of the up and coming polo players in Brunei. He is HRH Prince Jefri's son-in-law and started playing polo at the Royal Brunei Polo Club in 2000. YAM Pengiran Muda Bahar Ibni DYTM Paduka Seri Pengiran DiGadong Sahibul-Mal Pengiran Muda Haji Jefri Bolkiah (Prince Bahar) is 32 years old and the second son of HRH Prince Jefri. He is a member of the Royal Brunei Polo Club and has participated in numerous international polo tournaments, including at Sotogrande in Spain and in the Gold Cup and Queen's Cup in UK. He plays off 1 goal and the All Asia Cup will be his first polo tournament in Thailand.
| | | | | |
| --- | --- | --- | --- | --- |
| HRH Prince Jefri (0) | Prince Qawi (0) | Pengiran Ali (0) | Prince Bahar (1) | No Reserve |
FINAL & SUBSIDIARY FINAL UNDER THE LIGHTS - on 18 January
The Two top teams in each of the Groups will meet in the Subsidiary Final and the Final on the VRSC field. The two top teams will be decided on points gained during the three days of play in their group. Each team will play three times. A win is 3 points. A tie is 1 point, and in case of a tie, then goal difference and total goals scored will be applied.
SEE YOU AT THE ALL ASIA CUP -- Everyone Welcome. Admission Free.
---
9-10 NOV 2013 -- KOREA IN CHINA PRACTICING FOR ALL ASIA CUP
Korea team traveled to China recently to play at the first polo club in China -- Nine Dragons Hill Polo Club -- to take on a China team and begin preparation for the All Asia Cup. The match lasted 2 days with 8 chukkas, Korea team (Rodrigo, JB, James, Daniel) overcame the China team (Tommy, Big Su, Dino, Windson) by 12 : 8. Lilian was on hand to witness the event. Big Su was looking magnificent in his jersey and Dino was on the field, so he must be in the good books with his polo-loving wife.
---
10 NOV 2013 -- SPP ICE WATER ACTION
The Season is up and running in Thailand. Rain stopped the action on Saturday, but Sunday, Khun Top was on the field training for the All Asia Cup. He is about to travel to Argentina for 2 weeks of intensive training. Khun Edward was also on the field, and after 6 penalties on the previous Thursday, Khun Edward was promised a bucket of ice water if he could play 5 chukkas and not commit a single foul. Edward was on fire, with several spectacular nearside shots and no fouls. Khun Santy announced that it was his Birthday, so the bucket of ice water was shared between Ed and Santy. Khun Ploy was on hand to record all the action, and she is about to begin her role as hi-profile advisor to the TPA for publicity of the All Asia Cup.
---
26-27 OCT 2013 -- BACH-A-MAN BACK ON THE FIELD
The Back-a-man is back in Asia. This time Korea for the 2nd Korea Open. Taro San hailed his Pocari Sweat team back to the field with Federico Bachman 5 goals, James Lee 0, YJ Park -1, Daniel Kang -1 and defeated Royal Salute (Charlie Field, JB Lee, YK Chung, Tim Chang), and BMW (Ross Ainsley, David Ko, Jerry Kwak, Kevin Lee) by 4 to 3, 7 to 5. Second Place went to Royal Salute beating BMW by 4 to 2. In 2014, the 3rd Korea Open will be replaced by the polo match in "2014 National Sports Festival" to be held in Jeju. This polo game is designated as an Exhibition sport during the Festival.
---
1-5 OCT 2013 -- HONG KONG WINS SUPER DUPER NATIONS CUP AT TIANJIN
Fortune Heights Super Nations Cup 2013 Gets Underway in October at Tianjin Goldin Metropolitan Polo Club. Argentina, the world's undisputed polo powerhouse, will return to Tianjin Goldin Metropolitan Polo Club in October to defend their crown against challenges from England, Hong Kong China and USA. The Fortune Heights Super Nations Cup 2013, one of international polo's most exciting tournaments, will take place from 1 to 5 October at China's Tianjin Goldin Metropolitan Polo Club. Hosted by the Federation of International Polo (FIP) and the Chinese Equestrian Association, this 24-goal handicap tournament is one of the highest-goal international tournaments in the world, making it a unique opportunity to observe some of the world's finest polo players in action -- www.metropolitanpoloclub.com -- FINAL RESULTS -- Hong King China Crowned Champions of Fortune Heights Super Nations Cup 2013. The sport of polo made a triumphant return to its ancestral home of China today, as Hong Kong China defeated England 11 - 7 to clinch the Fortune Heights Super Nations Cup 2013. The quartet of Dirk Gould, Joao Ganon, John Paul
Clarkin and John Fisher put in inspired performances to overcome an all-star England unit of Henry Fisher, brothers Mark and Luke Tomlinson and Nacho Gonzalez at the magnificent Tianjin Goldin Metropolitan Polo Club.
---
17-21 SEP 2013 -- CHINA DEFEATS PHILIPPINES IN FINAL OF CHINA OPEN
The China Open is heating up. The Final on Saturday will be China vs Philippines. On Friday, Philippines narrowly defeated Australia 6-5. The second match saw a decisive 9-6 victory for China over USA. The sole USA player had Visa problems and was unable to attend, so with a majority of Pakistani players, the USA team became a PAKISTAN team. So it will be a Royal Salute vs Bombadier final in the China Open. Standby for the exciting conclusion to the China Open 2013.
Royal Salute CHINA
Shilai
Nan
Carlos Pando
Raul Laplacette
Land Rover AUSTRALIA
Harry Anthony
Christine Syddall
Andrew Williams
Martin Ingham
Bombardier PHILIPPINES
Top
Tal
Filly von Potobsky
Anthony Garcia
St. Regis PAKISTAN
Shah
Gaspar
Ahmen Tiwana
Anthony Garcia
---
1 SEP 2013 -- BANGKOK BANK WINS KING'S CUP ELEPHANT POLO
The heavyweight of the polo world -- The King's Cup -- was held in Hua Hin from 28 August until 01 September. For the first time, we had 16 teams competing, and it was a tour de force all the way. King Power was the returning champions and they were on fine form, finishing all games with 13-18 goals a game. Mercedes was in high gear with their original command crew back. Audemars Piguet had some change in personnel due to Angads horse injury. Manclark was back, and had a very exciting tie finish with PTT and its new Swedish Hockey tactics. The Elephant Story was also an amazing team to watch as Ed Story was on fire and definitely this year's Most Improved Player as he scored relentlessly hat trick after hat trick. There was class as well, as the Victorian Troop led the Whisgars on to the field and Johnnie Walker Blue Label was on form. The All Blacks Price Waterhouse get better every year, and always entertaining to watch. The Arabian Knights had the best tent and were a pleasure to have on the field. The Devils and Mekhong all provided great entertainment and inspired play, but in the end, it was James Manclark's Bangkok Bank team that went from strength to strength in a Cinderella upset over King Power and then a solid victory over Mercedes. Well Done Bangkok Bank. See you all next year. For more information -- www.anantaraelephantpolo.com
Bangkok Bank
Audermars Piguet
Anantara Hotels & Resorts
Arabian Knights
King Power
Johnnie Walker Blue Label
Citibank
CDD The Devil
Mercedes Benz
PTT
Price Waterhouse Coopers
Mekhong
Rueang Chang
Sara Story Design
Whisgars
Tiffany's Show Pattaya
---
24 SEP 2013 -- NUSANTARA AND PAISANO TIE
The Merdeka Cup was held in Indonesia this past Saturday with two teams on the field. Paisano Polo Academy from Singapore up against the mighty Nusantara Polo Force. It was a very exciting match, and the result was a nail-biting 5-5 tie. All gauchos enjoyed the warm Nusantara Independence Day hospitality and Shy Ronnie was too shy to dance the Pocho-Pocho. Maybe next time....
---
31 AUG-1 SEP 2013 -- JAPAN CUP IN SINGAPORE
Khun Stijn has informed us that the nascent Japanese Team will take to the field again at Singapore Polo Club. We have counted a total of 5 Japanese polo players in the world today, and we are watching as the ranks are sure to grow. Pictured left is the Yabusame mounted Japanese archer.
---
27 JUL 2013 -- INDONESIA TO HOST KOREA TEAM
The first visit by a Korean polo team to Indonesia is about to take place at Nusantara Polo Club and there will be a grand event organized by the Indonesian Polo Association at 3pm on Saturday. The Nusantara Team -- Nico, Novel, Fahmi, Glendy (6 goals) vs The Korea Team -- Agustin, JB, James, Rocky (5 goals). The Koreans have just come of the first playing of their All Family Cup in Jeju. Such has been the rapid pace of development of polo in Korea, that now there are several families able to field a team of players. Some of father and son teams, and some are father and wife teams. Indonesia invited Korea to visit for a friendly match and improve their skills as the All Asia Cup approaches. Other events at Nusantara will include a 23 AUG 2013 visit by the dynamic Paisano Polo Academy Team based out of Singapore. Then on 27 SEP 2013 an Indian Patron will be bringing his team to test the metal of the Indonesian team. October is planning to test the Nusantara tactics with the visit of a French team (Ou est le Taxi)..
---
7-8 JUN 2013 -- POCARI TEAM WINS IN KOREA
The first polo player in Japan, Taro Otsuka, led his Pocari Sweat team onto the field in Jeju, Korea over the weekend, and it was a battle all the way. He was up against the Nusantara Expeditionary Polo Team from Indonesia, and the two 6 goal teams thrilled the fans with spectacular polo over the two days. One thing is for sure, and that is the improvement of the Korean National Team. Each day, the spectators were given the pleasure to watch the Korean National Team play 2 chukkas warm up before the Pocari Sweat Cup, and the level of play was inspirational. James Lee has been working hard all last season playing in Thailand and taking lessons from Nico Curto in Jakarta. David and Sophie have been improving tremendously, even though David had a slight setback from a shoulder injury. Kevin has also developed into a fine classic-style player. Not only the main pl
ayers, but polo in Korea has developed into a family sport. There are now 5 families playing polo in Korea (Kevin+Jason, David+Sofie, JB+2 sons+wife, James+daughter, YJ+Andrew). Out of the 30 members, there are now 20 active players. The Korean Team is training hard for the All Asia Cup in Thailand in January 2014. The main event on Friday and Saturday, saw the NUSANTARA TEAM with Novel (2), Fahmi (-1), Curto (4) and Tom (1) up against a fully loaded
POCARI TEAM of Taro San (-2), JB (1), Rodrigo (2) and Agustine "Cambiaso" Martinez (5). The field was in excellent condition, and there were more bottles of Pocari Sweat Ion Drink that you can possibly imagine. The horses were excellent, and the fans were on the edges of their seats. The game was level into the third chukka when JB Lee executed a triple defensive play, blocking the ball three times, and allowing "Cambiaso" Martinez carry the ball to goal. The Nusantara team closed the day 6-8 (down by 2 goals). Saturday, saw the Pocari Team stunned into action as Nusantara slammed in three rapid goals to take the lead. It was neck and neck until the final chukka, but Taro San was the leader on the field scoring 3 goals for his mother who had flown in from Japan to watch the game. The final score was a victory to POCARI 14-12. Taro San exclaimed that this was his first victory, his first hat trick (3 goals), and the first Pocari Sweat Cup. No doubt, that Taro San has now caught the bug and we will be seeing more of him in the future on the polo fields of Asia. We asked Taro about other Japanese polo players in the world, and he said that there is Fushida (-1 in Mexico), Hiro Suzuki (+2 in UK), Akiko (+1) + Lanko Kume (-1 in Malaysia). For the past three years, there has been a JAPANESE CUP in Singapore, and this year, will be the 3rd Japanese Cup with the Japanese players on the field.
---
21 JUN 2013 -- TURBINE TPA MEETING
The Thailand Polo Association is fueled and ready to fly. They are a force 4 members strong (Fazeela, Penny, Nui, Emmy), and they are bound and determined to get the next polo season rolling in high form. The TPA has confirmed their priorities for next season are the polo schedule, confirming TPA polo handicaps in Nov 2013, and coordinating closely with the SAT. The TPA has promised this year to have a TPA Card Machine to print Thailand Polo Association Handicaps when requested by any individual that has played in a TPA tournament in Thailand. You will get your card for free with your name, handicap, and your picture -- so that you can easily play in any other country around the world. The TPA will also be looking for Corporate Sponsors to engage for the season -- bringing sponsors to polo and polo to our sponsors. The TPA is considering 3 tiers of sponsorship for the season -- Silver, Gold and Platinum -- with different levels of exposure for each. The TPA has promised to meet monthly and keep us updated on their progress. In Summary, The new TPA priorities: 1. Coordinate with SAT, 2. Confirm Schedule for 2014, 3. Confirm Handicaps in November for 2014, 4. Be ready to issue TPA Handicap Cards, 5. Identify Sponsors for 2014, 6. Update the TPA webpage, 6. Hold Regular TPA meetings. For more information -- Email TPA
---
28 MAY-8 JUN 2013 -- RANHILL WINS 15 GOAL PAHANG CLASSIC IN MALAYSIA
Seven teams entered this year in the Pahang Classic held in the city of Pekan. Antonino reports that his team of Ranhill won through to victory. The other teams were Thai Polo, Kotasas, Royal Pahang, La Sarita, Jogo Polo, Head Hunters. The final was between Ranhill and Kotasas. Ranhill team members were Facundo Llosa (4), Gerardo Collardin (7), Antonino Menard (0), and Tansri Hamdan (0). Tansri Hamdan is thinking about entering a Malaysia team in the All Asia Cup this January 2014.
---
JUL 2013 -- SPP HORSE SUMMER CAMP
Recently, we saw a show of force 15 members strong of young riders at SPP. There were some mothers and fathers along too, and two of the fathers have decided to take some polo lessons. The dates of the summer camps are -- 1-7 July, 22-28 July, 5-9 Aug -- We have Joaquin "Kukin" teaching the riding, Jack and Toey teaching the veterinary side and TBC the art and circle time. For more information on this exciting camp -- spphorsecamp@gmail.com
---
APR 2013 -- KHUN AOR BECOMES VR OPERATIONS MANAGER
Khun Aor has joined the polo team at VR. She will be in charge of organizing polo tournaments and communicating with visiting players who want to play in Thailand (as of TPA meeting on 15 May 2913). She is very excited about her job. If you are interested in polo lessons in the off season, please email Khun Aor and she can welcome you to the club and organize some lessons for you -- Aor@siampolonews.com. Joaquin is working full-time teaching how to ride and how to stick and ball. When he is not teaching, he is executing aerial somersaults off his umpire horse to a complete flat position on the polo field in front of all the players in the throw in. We are still not sure how he does it all, but then again, he is from Villa Dolores. Joaquin is on duty at SPP in the off season to give polo lessons. Email Khun Aor to book a lesson.
---
12-16 JUN 2013 -- SINGAPORE OPEN
Lots of excitement in Singapore this week as the famous Singapore Open reigns again. Ronnie Lim from Paisano Polo Academy has informed us that he is gearing up for this one. Standby if we receive any news.
---
APR 2013 -- MALAYSIA VS NUSANTARA IN 10 GOAL MATCH
News from Nusantara saw a Malaysian team from Ipoh on the field with the Indonesian National Team at Jagorawi playing an exciting 10 goal match. BP POLO team included -- Joevy Beh 4, Chevy Beh 4, Dato Beh 1, Acep Krisnandar 1 (10 goals). NUSANTARA POLO team -- Novel A Momongan 2, Nicolas Curto 5, Glen Bujung 1, Billy Barsel 1 (9 goals). Very exciting match, BP team won 6 to 5 with the winning goal at the end of the last chukka. Great beginning for the polo season for Nusantara with nice and classic polo.
---
23 APR 2013 -- THE KOTEKA CUP
The end of the season at VR and SPP. The last cup - The Koteka. Eric arrived on the field and said, "I am not going to lose this one." Max was still with us, improving rapidly from his polo lessons in Dubai. Khun No was on fire again, and he brought a hotdog cooker. There was Fernet, and a lovely array of spectators. Khun Ploy was on the field, but she was reluctant about winning the Koteka. The Blue team surged forward 3-1, but then Eric Barthe emerged from wilderness, and streaked forward to gain
a brilliant goal. In the final bell, the Yellow team had equalized for a 3-3 tie in the first Koteka Cup ever played in the world. We urgently dispatched the results to the Indonesian chapter of La Asociacion de Los Gauchos Timidos -- Nico Curto -- and he was very pleased with the results.
---
22 APR 2013 -- PHILIPPINES WINS CHARITY CUP PICKLE
Mikee Romero brought the team back for the Charity Cup with #6 Aries in Philippines Got Talent. They were a tour-de-force on the field, taking out King Power and Black Dog on a sultry Saturday. Mikee was pleased with his team, and he gave us an interview on his excitement and anticipation of the All Asia Cup. is back on the field, and this time he wants to win. It is a single shot 3 team match to raise funds for a good cause. Thailand and Philippines have been battling constantly towards the latter part of this season, and each time, Mikee brings over more and more talented artists from the Philippines.
---
20-21 APR 2013 -- DOUBLE SONGKRAN CUP
And just when you thought it was safe to come out again, there was a Double Header played at VR Sports Club. Both Saturday and Sunday saw the ice bucket filled with ice and water. The teams fought furiously with the King Power Foxes up against the full power of the Black Dog team. The problem was a combined superior effort from Khun No and Khun Tal. The Dogs were unable to break through. No with a defensive maneuver, then a Miguel Diaz style under the neck goal in the final minute put the Dogs under the ice. Then on Sunday, just when the Black Dog team thought they had found their feet again with a victory in hand, Khun Tal scored a brilliant 30 yard lofted penalty to equalize the game -- and thus a Songkran precedent was set -- if teams tie at the final bell, then they both get wet. Two very hot days with a chilly ending.
---
13 APR 2013 -- RECORD VICTORY AT KHUN OMSIN CUP
Khun Omsin is the most revered Thai gaucho in Thailand. He has built two polo clubs, his son is the highest handicapped Thai Polo Player in the world, and he has recruited most of the polo grooms in Thailand from his faraway Mekong town of Muktahan. So, this past Saturday, we honored Khun Omsin with a Khun Omsin Cup at VRSC, and the King Power team destroyed the SPP team 15-5 over 5 chukkas. The team was enjoying themselves so much that they wanted to test the scoreboard and go for 20 goals, but Khun Nat and Khun Ploy turned up the defense and were able to hold the King Power team to only 15 goals. This may be the highest score that we have seen this season, and Khun Nat presented the winning team a warm congratulations on behalf of Khun Omsin.
---
14 APR 2013 -- HISTORIC BIRTHDAY CUP TO PLAY AGAIN
Khun Vichai has announced that this Sunday, the historic Birthday Cup will be held again. Vichai loves his birthdays, and the best way to celebrate is on the polo field. Stand fast, as the action is sure to be furious under the lights at VR.
---
15 NOV 2013 -- THAI TEAM GOING TO PLAY IN PHILIPPINES
Mikee Romero has invited the Thai Team to come and play at 2 clubs in Philippines this coming November. This is a tentative date, but the idea is to play at Alabang and Mikee's field. Standby as we bring more news of the upcoming Thai Team trip.
---
30 NOV 2013 -- "PEGASUS 2013" -- EQUESTRIAN AIRSHOW
Khun Tao, Helena Gabrielson, Khun Damri and Khun Uthai have confirmed that November will see the first ever FLY-IN EQUESTIRAN AIRSHOW ever held in the Kingdom of Thailand. The event will be held at KLONG 15 AIRFIELD where aircraft from Malaysia, Singapore and all over Thailand will fly in for an airshow and then to watch the comptetiion of Thai worldclass Show Jumping at EQUESTRIAN PARADICE. This exciting event will be followed by the first ever PILOTS-RIDERS BBQ at the Equestrian Paradice pool. The Klong 15 airstrip is walking distance from Equestrian Paradice and Khun Tao will share is passion for flying and horses and welcome all participants. The first 10 aircraft to arrive on 30 Nov will receive FREE HOTEL and the nearby golf club. The Pilot-Rider BBQ will be delicious and FREE for all pilots and riders. SPONSORS: TrueVision, AirAsia, EADS, King Power, SFAT, and more coming... Any Questions -- EMAIL PEGASUS 2013
---
14 APR 2013 -- INDONESIA WILL PLAY TRI-NATIONS SONGKRAN CUP

Nico Curto has announced that the Indonesia Team is on form, and Bowo has commanded a Thai tour in April. The team will compete in one of the most dangerous tournaments on the Thai Schedule -- the treacherous SONGKRAN CUP. This year, it will be the first ever Tri-Nations Songkran Cup in history, as we will have Philippines Global Port, Indonesia National Team, and a TOPLESS Thai National Team led by Khun Tal with Paitoon, Somchan, and a mystery third player. It is well known the fate that lies in store for the last place team in this infamous cup. Several drums are filled with ice water and ice and sit on the side of the field for the final chukka. The losing team then lies down, and the other teams pour these drums of water on the losing team. It is Songkran, and it is fun, but ask any previous team in the same position, and they will confirm that it hurts. We haven't seen the Indonesia National Team for many years, so it will be interesting to see how they have improved in preparation for the All Asia Cup in Jan 2014.
---
MAR 2013 -- TONY GARCIA INTERVIEW
At age 72, Philippine player Tony Garcia is a dashing figure on the polo field, and we were honored to have him on the field at VRSC during the playing of the Chairman's Cup. This was the first time he had been back on the polo field in 5 years, and he scored a nice goal for his team. Tony's son, Anthony, plays for Mikee Romero's GLOBAL PORT team, and he has been back and forth to Thailand many times this season to play. Tony has 9 children, and his 4 sons all play polo. Anthony is at 5 goals and his other sons are at 2, 1, and 0 goals. Tony started playing in 1972 in Manila and also at Santa Barbara in USA for 26 years. He started playing because he is a "horseman," and he loves the excitement of sports. His best teacher was Eduardo Moore who taught him about the "grip" on the horse and the "rein" of the horse -- which is all about not pulling. We asked him how it felt to be back on the field and he said, "it feels great. I wish I could play more, and I might..." Tony is also very excited about Mikee Romero's contribution to the sport and the close polo relation now existing between Thailand and Philippines. "We have developed a warm friendship with our Thai friends and it will always be a pleasure to visit Thailand or even better, for your team to come visit the Philippines in the near future. Tal was here with Ploy a few weeks ago, and I am certain that they had a fantastic time. Lets keep the fires burning and let's get closer as time goes by. I want Thailand and the Philippines to be the shining light of polo in Asia. We will play and work together with you guys, so we can bring in the other countries to join us in getting everyone closer to one another. We will show the entire polo world how great polo is in Asia, and that we will be the leaders in getting it included in the Olympics."
---
30-31 MAR 2013 -- KING POWER WINS CHAIRMANS CUP
It was a nail biter to the last minute. Global Port Philippines was ahead of Black Dog 4-2 going into Sunday. Black Dog equalized. King Power and Global Port were tie, then Miguel nailed Khun Vichai in the back of the helmet with an amazing drive, so King Power took it away with a 4 point victory. King Power was leading Black Dog by 4 points as they rode onto the field. The dogs were not going to take this lying down. It was fire. The deficit was reduced to 3, then 4 again, then 3. It was the last minute of play. Black Dog was in second place, then Miguel put it back to 4 goals, and Top-Miguel did it again in the final minute of play. King Power won the Chairmans Cup, Global Port finished second, and the Dogs came in at a resounding third -- but only just. It was a great tournament finished with the most amazing asado and musical extravaganza with the King Power band and all sorts of Philippines musical performances. Mikee Romero has promised to bring the Philippines band MOCCHA GIRLS for the ALL ASIA CUP. This was one of the most enjoyable tournaments we have had this year, and we would like to thank Mikee and the Philippines team for a tremendous display of sportsmanship and singing ability that really made the tournament. The Thai National Team is now planning a November tour to Philippines to play at Mikee's field and another field for a double header.
Saturday - VR Field - Start 17:00
Chukkas 1-2 : Black Dog VS Global Port
Chukkas 3-4 : Global Port VS King Power -- tie
Chukkas 5-6 : King Power VS Black Dog
After game: Dinner in the Tepanyaki room in VR Club House
Sunday - VR Field - Start 17:00
Chukkas 1-2 :

Black Dog

VS

Global Port

-- tie
Chukkas 3-4 : Global Port VS

King Power

-- 9-5
Chukkas 5-6 :

King Power

VS Black Dog -- 8-3
After game: Prize presentation and Asado at the Pool

King Power (1st)
Khun Vichai
Nan
Top
Miguel

Global Port (2nd)
Mikee
Tal
Adrian
Anthony

Black Dog (3rd)
Ploy
Eric
Tom
Antonino

King Power Wins Chairman's Cup 2014 -- Global Port a thrilling display of polo and musical talent

Black Dog a valiant effort -- Glamorous Ladies at the Chairman's Cup

Global Port Basketball Team -- Romero "Girls on Fire -- Chairmen Spectators
---
6-7 APR 2013 -- BREEDERS CUP AT POLO ESCAPE
As this is a low goal competition, professionals will be restricted in their actions on the field. Polo Escape has formulated some special rules for these competitions and Churo will be explaining these rules and introducing the players at the tournament meeting held by the pool at 3:30pm on Saturday.
OFFSPRINGS
Patty Pat
Will Vogel
Wael Soueid
Churo Pellegrinni
FALLE WIND FARM
Jen
Jim
Conrad Stoyke
Guillermo Corti
UPTON GREY
Graham Bones
Kerry Lucas
Jasmine Wang
Matias Orlando
DONORS
Robin Lourvanij
Chesca Hewson
Russell Tyre
James Hewson
---
23 MAR 2013 -- ZHANG YI MING ON THE FIELD

VR Sports Club was honored to have China's Deputy Head of Mission, Zhang Yi Ming, on the field. He was promptly placed on a polo pony and taken for a few rounds of the field. He was then handed a polo stick by Khun Top and told "it is just like playing golf from a helicopter," as he strode onto the field. He carefully lifted his mallet, and his first strike of the ball went 60 yards. Polo Manager Lucas noted that several of his subsequent hits were also on the 60 yard mark. The day was a furious meeting of teams. Siam Polo Park, Leicester City Foxes, and Black Dog. It came down to yet another Fox Hunt in the final chukka with the Foxes leading 5-1, but then the dogs rallied and narrowed the gap 4-5 with a final charge by Eric downfield and 6" wide of the goal. A very exciting match in preparation for the Chairman's Cup next weekend.
---
29-31 MAR 2013 -- HEWSON LEADS BUNS TO EASTER CUP VICTORY
Soon retiring Polo Escape manager, Churo Pellegrini, has confirmed that Polo Escape will be holding their Easter Cup tournament. Churo will be on the field with wife Camille and SPP member Edward in a fully charged and slightly sweetened effort. James Hewson Captained the Hot Cross Buns through to absolute victory in the match with a concerted effort.
Candy Eggs
Robin Lourvanij 0
Brook Tellwright -1
Guillermo Corti 0
Patrick Furlong 2

Marshmallow Bunnies
Edward Batchelor -1
Cammie de Pellegrini -1
TBA 1
Churo 1

Hot Cross Buns
James Hewson -1
Chesca Hewson -1
Matias Orlando 2
Damian Marcos 1
---
APR 2013 -- ANOTHER POLO CLUB COMING TO THAILAND
Those familiar with polo in Thailand will appreciate the unbridled passion for the sport in this fine land. So... it comes as little surprise that we have heard there is another polo club coming to the Kingdom. Standby as we find out more about this exciting development.
---
SUMMER SEASON 2013 -- UK PLANS
Khun Top and Khun Tal have confirmed that King Power has a high velocity summer season planned for England this year. Shilai will be playing in the 12 goal La Martina Cup. There will also be two 15 goal tournaments and two 12 goal tournaments with a Dubai Cup, Eduardo Moore Cup, Royal Berkshire Cup and all sorts of other cups. Standby as we find out more.
---
15-17 MAR 2013 -- AXUS WINS JAMES ASHTON CUP (10 GOAL)
There were 3 teams playing around Robin in the James Ashton Cup 2013 with gauchos coming in from all corners of the globe. It was a close battle with several games finishing in a tie, but in the end, it was down to goal difference and Brian Xu's AXUS team won through. VR Sports Club kindly offered 12 horses to Polo Escape for the tournament, and Khun Robin was so grateful that she will possibly reciprocate in Jan 2014 and provide 12 horses to VR for the 2014 All Asia Cup. Nico Curto reported that his horses went extremely well. He said all his games were perfect and was very pleased with the tournament. Khun Hugh captured the perfect image of the tournament with Brian Xu charging forward with Roger Carlsson in close pursuit. The James Ashton Cup in held in memory of James Ashton who was a great lover of the game of polo and had previously played at Polo Escape.
---
06 MAR 2013 -- PAITOON SHINES IN GROOMS CUP
The Grooms Cup at VR Sports Club is becoming one of the hottest tournaments on the Thai Polo Calendar. Khun Nat has been working very hard to improve the grooms polo skills throughout the season. This was the time for the grooms to show what they had. Equipo Azul started out strong leading 5-1 in the first 3 chukkas. Equipo Amarillo then called their reserve player Paitoon onto the field for the 4th and final chukka. It was a Cambiaso story, as Paitoon rallied his team and they came from behind for a Yellow victory 7-6. Congratulations to all the grooms for their tremendous improvement throughout the year.
---
17-19 MAY 2013 -- NINE DRAGONS CONSUL GENERAL'S CUP

Nine Dragons Hill Polo Club in Shanghai, China has organized another Consul General's Cup. They plan to have 6 teams play. The cost is us$10,000 to bring a team to play. If you are interested to play email -- nikkiwoo@126.com
---
25-26 MAY 2013 -- TANG POLO INVITATIONAL
From May 25-26th the International Tang Polo Invitational Championship will be held at Tang Polo Club in Beijing. This season, we have had Dario, Dr. Jody, and Curto from Tang Polo Club learning and playing with us at SPP. Dario and Curto still speak more Mongolian than they do English, but Jody is going great guns and learning a lot from Mau Jack and Mau Facundo. Tang Polo Club has a new International Marketing Specialist -- alicia.hutton@tangpolo.com
---
10 MAR 2013 -- AIR ASIA EXPEDITIONARY POLO TEAM WINS IN PHILIPPINES
It was a Top Secret Covert mission behind enemy lines deep into Philippine territory, but the King Power expeditionary Polo Team, led by Khun Tal, arrived in Philippines to play in the Global Port Tournament. Philippines has been sending many teams to play in tournaments at SPP and VR this season, and this was a chance to thank them for their support of polo in Thailand. Khun Tal got 1 goal, Khun Mike 3 goals, Khun Anthony 2 goals, and Miguel 5 goals. There were 6 teams playing, and our Air Asia team (playing as Maserati) won 10-6. Miguel is no stranger to the Philippines, and we will bring you more details on this tournament as soon as we can.
---
25 FEB 2013 -- SINGAPORE POLO CLUB GEARING UP
Singapore is getting ready to open for their 2013 polo season. On Saturday, they had their first members and grooms footmallet and bicycle polo day. Singapore has been pioneering the use of bicycles on the polo pitch for many years. In the late 60's, SPC polo grooms had bicycle teams and played against other groom teams from Mayalysia. Pictured here is Ipih (black team #1) who is now age 70 when he was playing for Singapore Grooms Bicycle team. Ipih is still working at SPC today and recalls that Singapore and Pahang had the strongest bicycle polo teams, and in the last match against Selangor, one of the opposing players crossed in front of Ipih and backed the ball hard into his chest. Ipih had to go to the hospital resulting in a Singapore losing by 1 goal. Ipih still claims that this was a foul for sure. It is hoped that this rich and valuable polo tradition may be in a state of revival at SPC now. It certainly is a valuable lesson in conserving energy in your polo pony, because you will get to feel first hand what they they are doing on the field. Follow this fascinating story on https://www.facebook.com/SingaporePoloClub (thank you to Singapore Polo Club for this brilliant historical flashback).
---
1-3 MAR 2013 -- SHY RONNIE DEFEATS GLOBAL PORT IN DRENCHED GOLD CUP FINAL
The rain poured down and the day was lost, but then... when any normal polo club would have said "sorry for that," the water dissipated and the floodlights came on, and the teams rode onto the field. The Final of the King Power Gold Cup was played under the lights and Paisano came though 6.5-6 in a nail biting thriller. Shy Ronnie has never seen such fortitude and perseverance in the face of adversity. Miguel Diaz was prepared to play in the arena for a rain alternative, but at the final moment, he took his new fusta and lead the Global Port team onto the field. It has been a David and Goliath battle this year, as a humble 3 goal TNT (Thai National Team) were playing at a 6 goal level against formidable teams, but this will only strengthen their metal for the upcoming 2014 All Asia Cup in January 2014. The Global Port team from Philippines had the handsome Miguel reeling from victory in the recent Association Cup where he defeated the team with Paisano member Che.
KING POWER
Top
Tal
Tsu
Nat
3 goal team

GLOBAL PORT
Mikee
Anthony G
Julian G
Miguel D
7 goal team

PAISANO
Shy Ronnie
Nico
Anto
Santy L
6 goal team

SIAM POLO PARK
Ploy
Marc H
Adrian
Santy G
5 goal team
---
24 FEB 2013 -- EQUIPO DIAZ WINS ASSOCIATION CUP - "Jugando para la fusta"
Miguel Diaz, a former President of La Asociacion, captures the coveted Association Cup. It is one of the most famous tournaments in the world. La Asociacion de Los Gauchos Timidos held its annual "Copa de La Asociacion" at SPP on the afternoon of Sunday 24 Feb 2013. The Association Cup is held in honor of all the humble gauchos in the world. The gaucho leads a solitary life, alone on the pampas. It is his job to rear and train the horse, and when called upon, he must stride onto the field and act with precision and delicacy to maneuver the horse in such tactical means as to effect the h
ighest score possible for his patron. The Association has had a long line of Presidents and their membership has spread to the far corners of the globe as the sport of polo has increased in popularity. This cup is a time to pause and reflect on the humble origins of the gaucho and to recognize what great things are possible when gaucho meets horse. The current President of the Association, Khun Tal, was overseeing the tournament from England as he was busy representing The Association up there. A recent meeting of La Asociacion at Polo Escape fully sanctioned the tournament and certified some new members. The winners of this one day Shotgun Tournament received an Official "Fusta" from the Association. The Fusta, or whip, is used to train the horse and guide it on the field of play. Most importantly, this tournament saw the arrival of our new "amigas" from South Africa and other countries who will be invited to future polo events to present the fustas to the winning team. MOST IMPROVED PLAYER: James Lee from Korea.
---
1-3 MAR 2013 -- PATRON'S CHALLENGE AT POLO ESCAPE (8-10 GOAL)
The Axus team will be back on the field for this weekend of high goal Patron Power at Polo Escape. Three teams have been confirmed, and we are waiting to see who else may come. There is certainly a lot of food and visitors are welcome to watch this amazing performance. Hugh will be on the field to record all the magic. For any questions -- churo@argentinapolo.com
---
MAR 2013 -- RUSSELL TYRE EXPLODES ONTO THAI POLO FIELDS
Thailand has been shaken and taken by storm as Hong Kong native Russell Tyre has appeared on the field. We first saw him in the Snake Cup at Polo Escape. Then he was hitting lofted penalties at Siam Polo Park. In the month of March, Russell has scheduled tournaments at Thai Polo, Polo Escape and Siam Polo Park back-to-back. There was an emergency meeting of the TPA Handicap Committee and Russell Tyre was immediately raised from -2 to -1, and it is rumored that he may make it to 0 goal by early next year if he keeps up the momentum. Russell is a golfer by passion, but he is quickly learning that polo is an addictive pursuit, and he may soon be hanging up his golf boots. Stay tuned as we follow the progress of our newest Thai Polo sensation. Russel will be playing at B. Grimm Thai Polo tournament with Windson and Diego on 8, 9 and 10 March, then at Polo Escape on 6 and 7 April, finally at SPP for the Minus Zero Cup on 27 and 28th April. (thanks Hugh for the super
photo).
---
FEB 2013 -- KHUN NAT INSTRUCTING THAI GROOMS
The command has been given, and Khun Nat -- the highest handicapped Thai polo player in the world -- is back in the saddle instructing several young Thai grooms in the finer arts of striking the ball. The command recently arrived after Khun Choei was seen on the field in the final of the Ambassador Cup striking a ball at full flight near center field straight through the goal posts. Khun Top was heard screaming from the sidelines, "that is my groom!" with great pride. Thus is the progress of the skill level of the Thai polo players in the Kingdom. SPP Farrier Khun Paitoon has also improved tremendously, so if you venture past the club, you will see the grooms under the gun with Khun Nat ordering them to hit 100 balls from the wooden horse while holding a 10 Baht piece between their knees and the saddle. Pictured here is Khun Nat with Khun Thuy, Cherry, Dum and Prig on the wooden horses.
---
MAR 2013 -- ANCIENT KINGDOMS CUP POSTPONED
The first ever Ancient Kingdoms Cup ever held in the world is coming to Thailand... but not this year. Our Ancient Kingdom Persian Empire team is experiencing 400% inflation in Iran right now, so this is a good reason to postpone the battle. There is much controversy whether polo originated in Ancient China, Persia, or Northern India... So we have decided to settle this like gentlemen -- on the field -- at Siam Polo Park. The four teams will be PERSIAN EMPIRE, TANG DYNASTY, KINGDOM OF SIAM, BHARAT VARSH. There will be an exhibition of equestrian art from Persia. This is the first time an Iranian Polo team has ever played in Thailand. Standby for more info on this historic meeting of Empires, Dynasties and Kingdoms. POSTBONED until 2014.
| | | | |
| --- | --- | --- | --- |
| PERSIAN EMPIRE | KINGDOM OF SIAM | TANG DYNASTY | BHARAT VARSH |
---
15-17 FEB 2013 -- VIPERS WIN GOLDEN SNAKE CUP

The Year of the Snake is upon us, and Polo Escape celebrated with a Golden Snake Cup. It was a wonderful tournament with 5 teams, and two evenings of delicious dinners and live Michael Jack entertainment. The Vipers team was strong from the first with a solid first day victory over James' Ravens (codenamed Rattlesnakes). The Purple 50*C from Dubai was equally strong off the mark, and advanced to the semi-finals against Robin's Vipers. The real battle of the tournament was the second day with the three remaining teams playing 6 chukkas together. Pure passion on the polo field. Churo and his young handsome players from China were a joy to watch on the field as they held their own with solid team play and high enthusiasm. The Green team came out on top as Ravens scored an own goal
after a tremendous charge downfield by Sarah Clark. The Final was played betweens Robin's Vipers and the Green Team of Cobras with Robin pulling out a solid 4-1 victory for her friends Philippe and Charlotte. Philippe is an amazing defensive player and Cueto was tremendous in back. The battle for 3, 4, 5 fell to the Red, Yellow, Purple teams. James Hewson was a player reborn on the polo field, and Chesca was a determined warrior. The Gummers were again playing very strong and animated polo. The Purple boys from Dubai were no strangers to the heat. The Purple took out Red 2-0. Yellow and Red went scoreless at 0-0, and a furious battle between Purple and Yellow was left at 1-1 as the dust settled. The real winners of the day, were the new players who had learned a tremendous amount and received Kuppa Brownies to reward them for their prowess on the field. The question on everyone's minds through the course of the tournament was which of these outstanding new Chinese players will be invited to join the China National Team for the ALL ASIA CUP in 2014.
Friday 15th Feb:
Zone A: (3:00 PM) - Vipers vs Rattlesnakes (4 chukkas)
Zone B (4:00 PM) - Cobras vs Anacondas (2 chukkas) - Cobras vs 50C (2 chukkas) - Anacondas vs 50C (2 chukkas)
After chukkas PE is organizing wine tasting with tapas and followed by dinner with guest wine maker Geoff Merill from Barossa Valley, Australia. Starting from 7:00 PM.
Saturday 16th:
Zone A (3:00 PM) - Winner Zone A Vipers vs Winner Zone B 50C
Zone B (4:00 PM) - Other 3 teams. Cobras
After chukkas, asado and drinks will be served at function villa starting at 7:30 PM.
Sunday 17th:
Zone B (3:00 PM) - 3 teams will play for 3rd, 4th and 5th position -- 50C, Rattlesnakes, Anacondas (3,4,5)
Final game: - 4:30 PM - Winner of Zone A vs winner of zone B -- Vipers vs Cobras
5:30 PM, prize giving followed by refreshments and snacks at the polo bar.
Looking forward to seeing you all very soon, if you need any further information, please do not hesitate to contact me at your convenience.
Kindest Regards -- churo@argentinapolo.com
RATTLESNAKES
Chesca Hewson
James Hewson
Russell Tyre
Tom Claytor

COBRAS
Sarah Clark
Wael Soueid
Windson Rao
Diego Gomez

ANACONDAS
Xiao Li
Muqiao
Xian Yang
Churo Pellegrini

VIPERS
Charlotte Caye
Philippe Decaraman
Robin Lourvanij
Cueto D'Andrea

50C DUBAI
Ian Grimes
Stuart Allan
Murat Ozgel
Matias Orlando

Vipers took First Place -- Cobras a very strong Second -- 50*C withstood the heat for Third

A ferocious battle between Anacondas and Rattlers for 4 and 5

Mucho awarded MVP -- Chesca and Iain were Best Players -- Sarah and Russell took Most Improved Honors
---
5-10 FEB 2013 -- AIR ASIA WINS AMBASSADOR'S CUP
2013
What a success !!! The Ambassador's Cup is the largest polo tournament ever held in Thailand. In 2011, we had a record breaking 10 teams on the field, and the earth was truly shaking. This is one of the most enjoyable and social tournaments of the year with many parties and lots of good food. If you would like to be a
TEAM SPONSOR, the team will wear your shirts and your banner will fly on the field and in the brochure and on the webpage. The cost is 50,000 Baht -- info@siampolonews.com UPDATES -- On Day 1, we saw a determined Mitavite team take to the field against a fully loaded Air Asia team. The dream was there, but Air Asia commanded the field. Hopes were higher for the Accor team, with James a strong attacking element up forward, as they launched a full scale charge against the L'Oreal team, but L'Oreal maintained their poise and grace, and with precision backhand passes, overcame all obstacles. Day 2 was some of the best polo we have seen so far. The determined Mitavite team went full force onto the field and stunned the Maserati team. They took the lead in the 2 chukka 3-2, but Mitavite was unable to capitalize on their penalty hit opportunities and lost in the final chukka to the elegant gentlemen from India. A great game to watch, and coach Filly was on the edge of his seat throughout the game. Under the lights, the Sripanwa boys were working hard from the first bell. Accor #3, Paitoon has shown incredible improvement on the field, playing very well with his back Lukas. But the awesome force of Khun Nat with Khun Top "Tua Rayo Con Team" (speed player) started to wear the Accor team down. Khun Tal had a magnificent charge down th
e field, perfect in every way, but somehow too perfect, as the final shot went wide by about 6". Great game to watch, and everyone feasted on "chip kap dip" after the game. Day 3 was a thriller. The Maserati team played valiantly, but AirAsia con El Presidente was too much to handle. On the VR field, Sripanwa was in the battle of their lives against L'Oreal. The score was back and forth. L'Oreal winning by one goal with a minute to play. Top pulled the ball downfield to in front of goal, it was lost. A back to the right, then another across and past the goal, with a hair-splitting backhand by Top, put the game into OVERTIME Golden Goal. The fans went wild. A 5th chukka was organized and L'Oreal's Clemment Toussaint put the ball in to take L'Oreal into the Final. Final Day was the social event of the year. All the VIPS and all manner of polo enthusiast descended upon the fields and were treated to splendid polo. The beleaguered Mitavite team had the game of their lives against Accor. No said Yes, and passed the ball like possessed dart with a stunning final bell draw. Sripanwa trounced the Maserati team in a very exciting game to honor the team sponsors. The final was brilliant. All the lights were on. Shilai Liu received 13 stitches in his chin, and the team carried on. Pee Noi confirmed that Thai Air Asia is now commanding 28 aircraft in the Thai Skies. And when the dust settled, AIR ASIA had captured the Ambassador Cup 2013. This Ambassador Cup was an unequalled Social Event of the year. No one left. The meals and drinks were free flowing and simply delicious. A band. Shows throughout the night. Thank you to PULLMAN, TPA, KING POWER for the most fantastic polo festival we have seen in a long time. Maserati team sponsor said that they were in contact with the Italian Embassy now to bring an Italian team to the Ambassador Cup in 2014.

The epic battle of the tournament was fought between L'Oreal and Sripanwa and had to be decided by Golden Goal in overtime

Clement Toussaint 1
Clement Delfosse 4
Huges Van Heesewijk 1
Jules Legoubin 0
TEAM 6 goals


Top 0
Tal 0
Tsu 1
Nat 2
TEAM 3 goals


James Hewson -1
Paitoon 0
Choei 0
Lucas Lujan 4
TEAM 3 goals


Shilai Liu 0
Boon 0
Santiago Lujan 3
Miguel Diaz 4
TEAM 7 goals


Edward -1
No Bar 0
Tom 1
Santy Galland 2
TEAM 2 goals


Shyam 1
Abhi 3
Marc Hogberg 2
Ploy -1
TEAM 5 goals
SCHEDULE
(Winners in White) (played OPEN format)
Tuesday -- 5 Feb
3:30pm --

AirAsia

vs Mitavite (SPP)
4:30pm --

L'Oreal

vs Accor (SPP)
5:30pm -- Poolside Dinner
Wednesday -- 6 Feb
4:00pm -- Mitavite vs

Maserati

(VR)
5:00pm --

SriPanwa

vs Accor (SPP)
6:00pm -- Snacks on field
Thursday -- 7 Feb
4:00pm -- Maserati vs

AirAsia

(SPP)
5:30pm -- SriPanwa vs

L'Oreal

(VR)
7:00pm -- Pullman Wine Pub Dinner

Friday -- 8 Feb
Nothing -- Rest Day
Saturday -- 9 Feb
3:30pm --

Mitavite

wins Wooden Spoon Match (SPP)
4:30pm --

SriPanwa

wins Subsidiary Final (SPP)
6:00pm --

AirAsia

wins Final (VR)
7:00pm -- Gala Dinner on Front Lawn (VR)


Khun Vichai and distinguished VIPs join the victorious Air Asia team on the podium

13 stitches Shilai takes one for the team -- Khun Ploy leads Shyam downfield -- Edward and Khun Chontida enjoy the Final

Chef d'equipe Olivier and Cecile -- L'Equipe L'Oreal takes Second place

Crunch Time discussing tactics -- Fashionable polo fans -- Amazing performance for the Gala dinner

Maserati GM Khun Pornsarin with her team -- Khun Tuk with a fully energized SriPanwa team

Delicious Pullman Dinner with endless flowing wine -- Chinese New Year show -- Khun Top Fan Club

Khun James shining on Accord team -- Coach "Filly" with a determined Mitavite team

---
3 FEB 2013 -- HUMBLE GAUCHOS IN MANILA
The course of history was changed over the weekend in Manila Polo Club. Two former Presidents of La Asociacion de Los Gauchos Timidos were secretly dispatched to Philippines to play in this tournament. The team they were up against in the final had won the tournament for the past 6 years in a row, but the humble gauchos Lucas and Miguel joined the field with Senores Romero and Garcia to alter the course of history on the Enrique Zobel Field. The match was so secret, that not many people in Thailand knew about it. The gaucho Churo previously had introduced the Philippine polo team to VR and they came to play in the Kings Cup. We are all hoping that the growing polo relations between Thailand and Philippines will bring this intrepid team to join in the ALL ASIA CUP in January 2014. Congratulations to Los Gauchos Timidos.
---
25 JAN 2013 -- CHINA SNOW POLO IN TIANJIN
The Fortune Heights Snow Polo World Cup 2013 began today at Tianjin Goldin Metropolitan Polo Club. Snow Polo World Cup is one of the major events on the world polo calendar, and is the largest snow polo tournament in the world. This is the second year running that Metropolitan Polo Club, the largest polo facility in China, has been chosen as the venue of this prestigious event. The tournament is hosted by the Equestrian Association of China and the Federation of International Polo (FIP), and is organized by the Tianjin Sports Bureau, the Hong Kong Polo Development and Promotion Federation (HKPDPF) and the Tianjin Polo Association, with support from various sponsors. Twelve teams are participating in this year's tournament with handicaps ranging from 14 to 16 goals. The teams, selected in cooperation with the Federation of International Polo, represent 9 out of the top 10 polo countries. Countries represented are: Argentina, Australia, Brazil, Canada, Chile, England, France, Hong Kong SAR, India, New Zealand, South Africa and the USA. According to Federation of International Polo President, Dr. Richard Caleel: "together, we have assembled 12 national teams of exceptionally talented players to produce an event of extraordinary competition in the world of international polo." Pictured here are South Africa (green) versus India (yellow) on Day one.
---
26 JAN 2013 -- THAILAND WINS KING'S CUP 2013
The theme for this years King's Cup was "The Great Gatsby" and The Great Gatsby himself was seen at the King's Cup Press Briefing at the Pullman Hotel in Bangkok. Four teams took to the field, and the main sponsors were SCB, Les Ambassador, King Power and Singha. The Final was too exciting for words, between King Power and Singha with the Tang Polo Club in full gear for the Singha team. At the final bell, it was Thailand's day 6-4. There were an abundance of fine restaurants on the side of the field and the star fighter of THAI FIGHT, Khun Buakaw, was on hand to greet one of the players from Les Ambassadeurs team. The final wes broadcast live on True Vision. Khun Ploy was the Emcee.

The Teams
KING POWER
SCB
LES AMBASSADEURS
SINGHA
The Schedule
January 22nd
15:30 - Les Ambassadeurs vs Singha
16:30 - King Power vs Siam Commercial Bank
January 23rd
15:30 - Siam Commercial Bank vs Les Ambassadeurs

16:30 - King Power vs Singha
January 24th - REST DAY
January 25th - Semi Finals
January 26th - Final - Broadcast Live on TRUE SPORT 2 (true vision chanel 102) 18.00 - 20.00
Questions -- lucas@argentinapolo.com
The Update
Exciting updates for the Kings Cup. Now the 4 teams have been decided, and they will be named after the sponsors. Mikee Romero will be leading the SCB team. Normally this team plays as Harbour Centre or Global Port, so this will be an exciting new opportunity for them. He will be joined by Anthony Garcia (5 goals) and the former President of La Asociacion Miguel Diaz (5 goals). This team will be playing with 3 pros, so their tactics should match those used by Tang Polo Team. "Filly" Potobsky (6 goals) will be joining the King Power team with Lucas Lujan (4 goals) and King Power Guns Khun Top (0) and Khun Tal (0). The Singha team has seconded the services of Thai National Team player, Khun Nat (2 goals). Nan Liu (0) will be leading the team with Raul La Placet (6 goals) and Roman Rampello (3 goals) under the watchful eye of Shilai Liu. A sudden late entry has shocked all teams. Eric Barthe has announced that he and Jamie Woodward will join forces and take an Anglo-German Les Ambassadors team onto the field. Les Ambassadors will include Argentinian Attaches Anto Menard (4) and Santy Galland (2). We don't know if the tournament will be played Open or with Handicap, but stay tuned... This is the KINGS CUP and anything can happen.
| | | | |
| --- | --- | --- | --- |
| King Power | SCB | Les Ambassadeurs | Singha |
---
6 JAN 2013 -- FOXES TAKE DOWN HOUNDS
The Black Dog team was ready for a Fox Hunt on the pre-King's Cup meeting of the Thai National Team with their arch enemy the Black Dog team. However, the Fox Hunt did not go to plan, and the Foxes turned on the hounds and put "La Cola Entra Las Patas." The beleaguered Black Dog team left the field licking their wounds but vowed to be back again.

06 Jan 2013 -- Foxes defeat Dogs at SPP in a pre-King's Cup meeting.
---
INDONESIA POLO ASSOCIATION ANNOUNCES HANDICAPS FOR 2013
Nusantara Polo Club has announced the Handicaps for 2013 season. The Nusantara and IPA agreed on the handicaps at a handicap meeting held on 19/08. Handicap committee members present: R. Iman Kusumo, Novel A. Momongan, Gabriel Nicolas Curto, Inen Sarnen. Indonesia Polo Association is the polo authority in Indonesia and is associated with Thailand Polo Association in Thailand.

Nusantara Polo planning a Thailand Expedition in March 2013
. 1 Prabowo Subianto Djojohadikusumo to 0
. 2 Hashim Djojohadikusumo from to 0
. 3 Aryo Djojohadikusumo -2
. 4 Budisatrio Djiwandono -2
. 5 Sara Djojohadikusumo -2
. 6 Gabriel Nicolas Curto 5
. 7 Novel Alva Momongan from 2 to 3
. 8 Inen Sarnen 1
. 9 Pepen Ishak Supendi 1
. 10 Wartono 1
. 11 Rober Kessel 0
. 12 Agus Gombong 0
. 13 Mario Miguel Silva 0
. 14 Billy Barsel Lumintang 1
. 15 Acep Krisnandar 1
. 16 Harifar Syafar 1
. 17 R.M. Iman Kusumo 0
. 18 Dudung 1
. 19 Edhy Prabowo -1
. 20 Alfan Mulyana -1
. 21 Teddy -1
. 22 Daninya Zakir -2
. 23 Setyoko -2
. 24 Karen Kessel -2
. 25 Del Mear -2
. 26 Wan Zainal -2
. 27 Raj Kannan -2
. 28 Dirgayuza Setiawan -2
. 29 Sugiono -2
. 30 Simon Mantiri -2
. 31 Krishna Soedarmo -2
. 32 Dirgayuma Setiawan -2
. 33 Sudarsono -2
. 34 Boyke Setiawan -2
. 35 Howard Chu -2
. 36 Tom Claytor 1
. 37 Daya Zakir -2
. 38 Mariano Martin Curto 2
. 39 Lucas Lujan 4
. 40 Santiago Lujan 3
. 41 Manuel Cereceda 3
. 42 Tomas Gandara 6
. 43 Guillermo Gracida 7
. 44 Carlos Gracida 7
. 45 Glendy Buyung 1
. 46 Mischa Germelmann -1
. 47 Liesbeth Capetti from -2 to -1
. 48 Rajiv Louis from -1 to 0
. 49 Sandra Jonhson -2
. 50 Mark Jonhson -2
. 51 Edouard Lastennet -2
. 52 Bjorn B. -2
. 53 Eliyah Attia -2
. 54 Kemal Osman -2
. 55 Fahmi -2
. 56 Farli -2
. 57 Gume -2
. 58 Riko -2
. 59 Farel from -2 to -1
---
11-13 JAN 2013 -- LA BOHEME (MALAYSIA) WINS LADIES INTERNATIONAL AT POLO ESCAPE
Khun Ploy led a King Power team to Polo Escape for the Ladies International, and the final was nail biting, but La Boheme from Malaysia won through in the end. A very exciting game against the Power of the Queens but Lia Salvo was unstoppable! Nat had chased her but couldn't catch her! The King Power team included Sunny Hale from USA, Charlotte from UK, and Khun Nat from King Power. There were apparently 4 teams playing in the tournament with lovely ladies from all parts of the world. Photos on www.polo-photo.com
---
19 JAN 2013 -- AXUS LOSES BY 1/2 GOAL IN THAI OPEN
Our very good friend from China, Brian Xu, led a fully charged Axus team to the BMW B.GRIMM THAI OPEN and played through to the final, but lost by 1/2 goal in the final. Brian is an eternal optimist, so for sure he will be back, brighter and stronger next year. Congratulations Brian Xu and the Axus team.
---
15-16 DEC 2012 -- SIAMESE CROCODILES WIN WWF CHARITY CUP
It was a thrilling battle between the Endangered Species of Thailand. Khun Tuk from WWF was on hand to view the final, and match between the Asiatic Black Bears and the Siamese Crocodiles was very close, but the crocs won through in the end. The subsidiary final was less exciting, with the Wild Asian Elephants completely stampeding the Indochinese Tigers. Khun Meow from Mitavite was on hand to give the MVP player awards to Khun Nat and to Khun Camille. The best Gangnam Style player award went to James Lee from Korea Polo Club. The best hit went to James who has been playing his heart out at Polo Escape to prepare for this tournament. The most fashionable player award went to Khun Robin and was presented by the members of La Banda. The check for 100,000 Baht was presented to Khun Tuk by representatives from the TPA and there were very delicious meals on Saturday at VR and on Sunday on the field. Thank you all for your participation in the WWF Charity Cup 2012.

A "Top Attack" -- for the Siamese Crocodiles -- on Day 1

SPP & TPA present the check to WWF -- A glamorous Asiatic Black Bear Team
WILD ASIAN ELEPHANTS
3rd

INDOCHINESE TIGERS
4th

SIAMESE CROCODILES
1st

ASIATIC BLACK BEARS
2nd
Tsu 0
Jamie 1
Nat 2
Ed 1

Eric 1
James 1
Antonino 2
Tom 1

Top 0
Noo 0
Camille -1
Miguel 4

Robin 0
Patrick 2
James Lee -1
Roman 3

Tom Woodward declares his love for Mau Jack -- Tsu "The Rock" getting ready for the WWF Charity Cup
---
12 DEC 2012 -- "CHEZ NICOLE" con "LA BA
NDA"
Second Wednesday of the Month
If you have ever wanted to meet a real gaucho, now is your chance. This past Wednesday, saw a gathering of gauchos in Nicole and Miguel's palatial residence for an extraordinary culinary experience of Italian extraction with wine and Fernet. The delicious meal was followed by the inaugural performance of LA BANDA with Roman and Santy. These gauchos played their hearts out, with their stomachs full, and serenaded all the ladies in the room. The evening was such a success, that Nicole has offered to organize the event monthly. Now you do not have to build a polo club to meet a gaucho, just come and help cook some spaghetti. If you are a single lady and interested in meeting a gaucho and enjoying an evening of fine dining and tantalizingly seductive music from LA BANDA, come and join us. This event is planned to be held MONTHLY on the Second Wednesday of the Month. The next "Chez Nicole with La Banda" will be held on 9 JAN 2013. Advance booking with Nicole -- nicolegrunwell@gmail.com
---
04 DEC 2012 -- MONGOLIA WINS ELEPHANT POLO IN NEPAL
The Mongolians were on form deep in the Terai this December as Chris Giercke led his intrepid Ghengis Khan Polo Club team to victory in the World Elephant Polo Association competition. Peter Prentice reports: "great win for GKPC - so Giercke very happy although sadly they beat Sam's ladies team in the final which was a bit of a shame - as all rotting for the gals. The Mongols was just to strong and under-handicapped as it tuened out, they are fast learners!"
---
09 DEC 2012 -- LA DOLFINA TIES ELLERSTINA in 119th PALERMO OPEN AT SPP

The rumors were true. La Dolfina and Ellerstina were on the field this Sunday at SPP for an official playing of the final of the Palermo Open in Thailand. For those of you who were watching on Saturday, Argentina time, you saw Ellerstina win 12-10 over La Dolfina in Buenos Aires, but both teams were not content and decided to travel to Thailand and replay the final at SPP. Khun Soul of the TPA gave permission for the Palermo Open to be held at SPP, and Khun Tal, the current president of La Asociacion de Los Gauchos Timidos, brought a new car to the field, so we could stick a sticker on it. Khun Ying came too, and she announced that the weather on Channel 9 was favorable for the final to be played. Khun Eric brought his friends Tim and Wanida. Khun No said "Yes" the whole game. Miguel was playing as Nicolas Pieres at 75 kilos. With one minute to play, Ellerstina was leading by one point. It looked like it was going to be a repeat victory, but Santy converted in the final minute to bring La Dolfina equal. Nicolas Pieres streaked down field in the final seconds for an attempt at goal, but he was thwarted by 2 La Dolfina players. This was the first tie final in the 119 year history of the Palermo Argentine Open. Khun Ying was asked to present the prestigious KFC CUP to the two tied teams. The 4th year Vet Students from Mahanakorn University of Technology seated themselves before the two teams in honor of the historic game. Next week, Khun Tal will be back with a new car to get a new Association sticker.
---
JAN 2014 -- ALL ASIA CUP 2014

It is confirmed. After the great success of All Asia Cup 2012 with teams from Mongolia, China, Thailand and India -- The ALL ASIA CUP will be held again. We are expecting 6 teams to join this year, and it will be held under the extremely strict rules of fairness in distribution of horses with HPA umpires used at the ALL ASIA CUP in 2012. Stay tuned as we bring you all the details for this exciting event. More info -- info@siampolonews.com -- UPDATE: Philippine players confirm that they want to join ALL ASIA CUP 2014. (players Anthony Garcia, Adrian Garcia, Antonio Veloso, and Mikee Romero stopped by with Polo Escape Manager Churo Pellegrini to inspect the field and pick up a new Thailand Polo Association Shirt to take back to Manila). Ham Polo Club article on All Asia Cup 2012
---
17-18 NOV 2012 -- CORMIX UK WINS SPP
FINAL
Edward and Ang Ban Tong make SPP history and defeat VR polo manager Lucas Lujan and Jamie Woodward in an exciting 1/2 goal final at SPP on Sunday. It is not often that we see Lucas lose a game, especially with Woodward on the field, but it was English Polo day with a Singapore twist and the Humble Gaucho Miguel Diaz fed his hungry team to victory. Earlier, all spectators were shocked as a mighty battle took place on the field as the Black Dog team met their arch rivals the Thai National Team with Khun Tal leading a very determ
ined Khun No who would not say "No." Nat and Tsu were on fine form, but the dogs did have two masked players on the field with James at the Top Gun position and Anto playing con las pelotas llenas. It was a great game to watch, and the Beleaguered Black Dog team recorded its first victory of the season (which they are savoring, because it may be their last). On Saturday, the Black Dog team could not withstand the Woodward Juggernaut and lost 5.5-2. The Thai Team were off to a very good start on Saturday, but also were overcome by the awesome combined forces of Ang Ban Tong and Edward and the humble gaucho at back. This means that we had two quintessentially British teams in the final. On Friday, In a sudden late-night release, Woodward confirmed that he will, indeed, be back on the field this weekend for the SPP Cup. Edward has joined up with Singaporean legend Ang Ban Tong to bring the first ever Cormix team to the field in Siam. The Thai team is looking incredibly strong as Khun No, the official "No Bar", is back in action after 6 months retirement. James has joined the Beleaguered Black Dog team, but we understand that this team also has some secret clandestine plans. Khun Moad has been spending time on the wooden horse to guide James on the field. Play will start at 3pm on Saturday with Black Dog vs Woodward Specialists. This will be followed at 4pm by an exciting match up between the Thai Team and Cormix. Miguel is back from Argentina, and he will bring his horse to this match, so all players beware. At 7pm, there will be a delicious Asado on the VR verandah. SUNDAY will be the exciting final at 3pm between the losers of Day 1 for the Subsidiary Cup, followed at 4pm by the grand final of the SPP cup. We have seen Khun Tal, the current President of La Asociacion, on the field last weekend, and he was in high gear playing with Khun Vichai and Khun Top. No doubt, we have 4 very interesting teams and any permutation is possible. Questions -- lucas@argentinapolo.com
THAI TEAM
Tal 0
No 0
Tsu 1
Nat 2

BLACK DOG
James -1
Eric 1
Tom 1
Anto 3

CORMIX
Edward -2
An Ban Tong 0
Santy 2
Miguel 4

WOODWARD
Somchan -2
Boon 0
Jamie 1
Lukas 4

Lovely ladies on the field -- James and his coach -- Nat and Joke share a joke.

The Woodward team discuss tactics -- Unknown masked players were seen on the field.

Khun Ploy stops by to inspect the gauchos in their new shirts.
---
POLO LEGEND KHUN OMSIN BACK IN TOWN
One of the greatest polo pioneers in the Kingdom of Thailand is back in town. Khun Omsin Pratumlee has built two polo clubs; he is the father to the highest handicapped Thai polo player in the world, and he has introduced and employed most of the remote Isaan town of Muktahan to the growing horse and polo industry in Thailand. Khun Omsin also served with distinction on the fist ever Thai Elephant Polo team to win the King's Cup in 2004. There is no question that Khun Omsin is a legend, but he is also very handsome. He was back for a brief visit, and it is our great honor to know that he was nearby for a few days. Khun Omsin's son, Khun Nat, has a new pick up truck which matches the color of his motorcycle, and he is now working overtime in the King Power bar code factory to pay for all these. Nat has informed us that Khun Omsin will be sponsoring a "Khun Omsin Cup" at some point in the future.
SHILAI LIU BREAKS TOE IN CHINA
China's leading polo Ambassador and Patron of the Tang polo team has broken his toe. Rumours are floating in that Shilai was attempting a nearside under-the-neck shot at 3am standing on a table at Mixx in Beijing after sampling a fine rare bottle of wine, but this report has not been confirmed. Shilai was hoping to be training for his upcoming participation in the King's Cup, but he is now tending to his toe. We will keep you updated.
10 NOV 2012 -- GRAND MULLIS BACK ON THE FIELD
The Grand Mullis was indeed back on the field after a long absence. He reappeared on the Elephant polo fields of Hua Hin a few months ago, but it was on this weekend at Polo Escape that the Grand Mullis officially stepped back on the polo field by horse with fellow enthusiasts Jaime Miranda, Russell and Edward with Khun Robin and assorted gauchos. Russell did several dismounts and has decided to perfect his riding in Argentina/
---
RETIRED POLO HORSE ON THE JUMP COURSE
And other news from the B. Grimm Polo Club with a report from Nicole that SPP student Mary McConnell and King Power Lucretia (ex polo horse, blind in right eye) competed at their first jumping competition (horse n rider) in two classes and placed second in both! Nicole tells us that this was the first time for an SPP student to compete in a competition in Thailand. Congratulations Nicole and Mary on a previous polo horse !!!
16 NOV 2012 -- MORE POLO JUMPING NEWS
Two of King Power's homebred Polo Pony foals made their debut in today's show jumping at the Nakhon Nayok CSI* competition. Daphne Jaffre and 'King Power Jackie' were third, and Ida Gabrielsson and 'King Power Geng' were fourth.
---
LA MANIFESTACION CUP -- SACARLA A LA HISTERICA
Many of you thought that the gaucho Che had returned to Argentina to get married, but in fact, he has returned to lead all the gauchos in a Manifestacion and overthrow La Mas Histerica en El Mundo Kristina Kirchner from office. The gauchos in Argentina have become very discontent that they cannot sell their vacas to anywhere and it is very complicated and difficult for any gaucho to sell a horse and some gauchos get strip searched when they return to Argentina for money. The crime has been increasing and Histerica only promotes those who do no work so that they can keep voting for her, and she wants to extend her Presidency for life. The last straw was when she nationalized the YPF -- because this is the place where the gauchos and their paisanas like to dress up and go for a night on the town. SO... In celebration of the Manifestacion and all the gauchos discontent, we are organizing a Manifestacion Cup to overthrown the Histerica. Photos of El Obelisco con los gauchos molestado kindly supplied from Anto.
---
04 NOV 2012 -- GANGNAM STYLE AT SPP
The lethal combination of James Bean and Edward on attack led the SPP team to a solid victory over Black Dog in the first ever Gangnam Style Cup played in Asia -- or probably anywhere in the world. Eric Barthe was like a svelte bullet streaking across the field, but it was too little too late for the Beleaguered Black Dog team to regain the 1.5 goal handicap they suffered at the throw in. Khun Nat and Rock were solid and steadfast, but the guitar-playing gaucho Santy who had just arrived proved a worthy adversary. Edward was left wondering how he can score so many goals at all the other clubs he plays in in Thailand, but he seemed to stand still on the ferocious field of SPP. Edward has proclaimed that he will be back on Wednesday for more high speed action, and he will indeed bring a British Team to play in the SPP Cup in 2 weeks time. Congratulations to SPP for a good 4.5-3 victory and thank you to all the lovely ladies who presented the "Coffee" (communication error when we asked for the "trophy") to the winning team. The Black Dog team has recorded their first official loss for the season, Saranya danced Gangnam Style, and Eric said, "We will be back."
---
10-14 OCT 2012 -- WOMENS INTERNATIONAL IN SINGAPORE
The ladies were back in action in Singapore. Thailand's Khun Ploy faced off against Lia Salvo on Day 1. Team Veuve Clicquot was victorious at the 2012 Ladies' International Polo Tournament, defeating team Jaeger-LeCoultre with a score of 7,5:3 in the 4-chukka final. Both teams advanced to the final after four exciting days of round-robin play in this international competition which was sanctioned by the Women's Championship Tournament (WCT) organisation as a qualifier for the WCT Finals.
Veuve Cliquot
Sarah Wiseman 1
Hazel Jackson 1
Melissa Ko (Capt.) -1
Abigail Slater -1

Jaeger-LeCoultre
Lia Salvo 2
Lynly Fong (Capt.) 1
Ann Wilkinson -1
Julie Harris -1

Como Hotels & Resorts
Sherri-Lyn Hensman 2
Claire Donnelly 1
Anna Lowndes (Capt.) -1
Melissa Tiernan -1

McLaren
Sunny Hale 3
Stephanie Haverhals 1
Yvonne Twiss/Ploy Bhinsaeng -1
Elaine Parnell
---
12-13 OCT 2012 -- BMW WINS KOREA OPEN AT JEJU
After a very successful Royal Salute on the windswept fields of Jeju, JB Lee announces that the Korea Open will be held at Korea Polo Club with 3 teams. Each will have one pro and 3 club members. This is a very exciting tournament for all the new players in Korea -- www.koreapoloclub.com -- the exciting 1st Korean open finished in the good weather. Team BMW : Mark Field 4, JB Lee 0, Y.Rock Lee -1 (my younger son), YJ Park/Tim Chang -2. Team PRK : Alex de Lisle 3, Jerry Kwak -1, K.Rock Lee -1 (my elder son), Kevin Lee/HK Lee -2. Team KPC : Roman Rampello 3, James Lee -1, David Ko -1, Daniel Kang/ JH Cho -2. BMW won Champion. // BMW win PRK 6:5 // BMW win KPC 5:3 // KPC win PRK 7:5. YJ Park, who blocked Roman's 60 yard shot 2 times, became MVP.
---
10-14 OCT 2012 -- CARTIER WINS THE CARTIER INTERNATIONAL CHINA

Cartier, in conjunction with Tang Polo Club Beijing and Guards Polo Club in the UK, has announced the creation of a new Cartier International Polo Day. This event will be held at Tang Polo Club in Beijing. Four teams will compete in a competitive 12-goal tournament to win the Cartier China Trophy and, of course, an elegant Cartier watch. Event host Shilai Liu will co-patron the Cartier team, The Tang team will feature another leading Chinese patron, Nan Liu, and Thai patron Top Raksriaksorn. Their professionals will be Lucas Lujan and Horacio Etcheverry. Appropriately, as Guards Polo Club will be managing this event on behalf of Cartier, some English patrons will be on the field of play too, including Jonathan Munro Ford of the Black Eagles team and his professional Chris Hyde. Neil Hobday, Chief Executive of Guards Polo Club, said of this new Cartier event: "We are honoured to work once again with Cartier to create a world-class event that combines elegance, passion, tradition and sport. The Cartier heritage is known throughout the world and it is appropriate that the Cartier International Day comes to China, a country which was playing polo more than 2000 years ago. Our host at Tang Polo Club, Shilai Liu is passionate about the game and is creating a first-class club here in Beijing which can offer great sport at an international standard." The competition will begin with an opening ceremony on Wednesday 10 October. Three days of matches will conclude with an elegant final on Sunday 14 October, with Cartier China hosting some 250 guests in its marquee. For more information -- dianabutler@mediaprocoms.com
Cartier
Shilai Liu 0
Adriano Agosti 0
Juan José Brané 7
Ramiro García Dana 5
Total: 12

Tang
Nan Liu 0
Top Raksriaksorn 0
Lucas Luján 4
Horacio Etcheverry 6
Total: 10

Equus & Co.
AronHarilela 1
Alex Brodie 1
Oliver Hipwood 5
Andrew Hine 5
Total: 12

Dorchester Collection
Jonathan Munro Ford -1
Kim Richardson 1
Jack Richardson 4
Chris Hyde 6
Total: 10
---
23 SEP -- CHINA WINS ROYAL SALUTE OPEN 2012
It was an epic battle on the field between 5 nations in this years China Open. USA, Thailand, China, England and Australia. Gauchos were flown in from all corners of Argentina for the event. Australia showed incredible heart and stamina winning through in the Subsidiary Final for La Cupa de La Re
publica - awarded on the Saturday evening dinner by His Excellency the Argentinian Ambassador. The final was a nail biter between Royal Salute China and King Power Thailand. The Royal Salute had been flowing all afternoon, and the match was extremely close. Both Top and Tal and Shilai and Nan had been on late night expeditions throughout the week. The gauchos Lucas and Feder "Filly" Potobsky had been testing the Royal Salute the night before, and China's gauchos Juan and Horacio were in bed early and checking horses at 7am. In the final chukka, Thailand was down by one goal, and Khun Top ran the length of the field for an equalizing goal. But Stop. The goal was disallowed, because Juan had injured his shoulder. The gaucho Nacho Gonzalez was ordered onto the field to replace Juan and the game continued. Horacio took the ball from the throwin to the goal to secure a 2 goal lead. Then there was a Thai goal, but the final score gave a Royal Salute victory to China 8-7. Very exciting tournament to watch, and a tremendous display of the commitment China is making to the world of polo. Congratulations Tang Polo Club for a great China Open 2012. Prior to the 16 goal tournament, the club organized a very successful 4 goal tournament on 1st and 2nd September and an 8 goal tournament on Saturday 8th and Sunday 9th. These tournaments, while they had some foreign teams and players, were mostly for developing the skills of local enthusiasts in China. This is the key focus of the club in building a national team for China. For more information, contact Peter Wood -- peter.wood@tangpolo.com
Upcoming events at Tang Polo BMW China Amateur Open again being hosted by Tang on Saturday 20th and Sunday 21st October. This is a tournament only for Chinese players and the number of teams continue to grow year on year.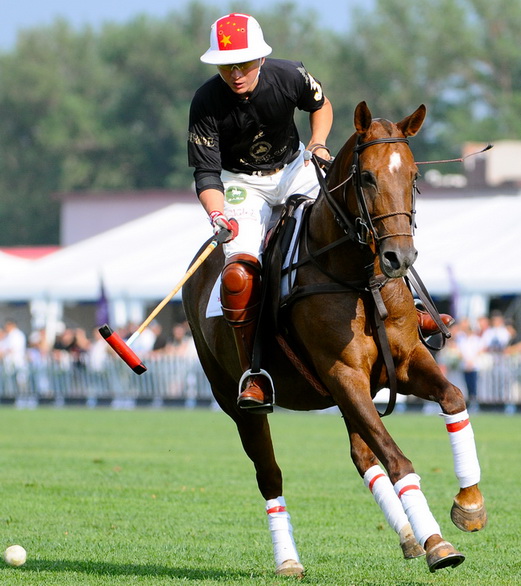 Juan and Horacio enjoy Duck Tongue -- Shilai downfield -- Top and Tal get some coaching after the game

"Filly" Potobsky gets MVP -- Tang Vets save 5 horses from Colic on morning of Final -- Australia wins Cupa de La Republica
---
13-16 SEP -- KING POWER VICTORY IN KING'S CUP ELEPHANT POLO
In this 11th year of Elephant Polo, the classic battle was fought once again in a final between King Power and Audemars-Piguet. AP has been the holder of the King's Cup for the past 3 years, but on this Sunday, it was different. The King Power t
eam had a clear run through the tournament, scoring 74 goals over 4 days. James Manclark and the Mercedes team gave a good semi-final match, but the combined stroke of Khun Nat at center with Khun Tsu on defense won the team through in the end. The Kalaan brothers and Sangjay played a very honorable final, and Khun Vichai Raksriaksorn came to watch his King Power team finally win through to the King's Cup. Ed Story and his Reung Chang team also demonstrated impressive play. The most improved team was Citibank with our friends the Wallersteins from Germany on the field and playing magnificent open field polo. In all, there were 12 teams in Hua Hin this year, with two matches being played consecutively to move the tournament along faster and before the rains. 3.3 million baht was raised for elephant conservation in Thailand from the event. For more photos and information -- www.anantaraelephantpolo.com

THE SEEDINGS 2012
#1 - Audemars Piguet
Chef D'Equipe - Oliviero Bottinelli
Captain - Angad Kalaan
Player 1 - Uday Kalaan
Player 2 - Sangjay Choegyl

#2 - King Power
Captain - Apichet Raksriakorn
Player 1 - Tom Claytor
Player 2 - Nattapong Pratumlee
Player 3 - Thanasin Chuawangkham

#3 - Citibank
Chef D'Equipe - Darren Buckley
Captain - Prince Carl-Eugen Oettingen Wallerstein
Player 1- Agustin Kronhaus
Player 2 - Princess Anna
Player 3 - Princess Yoanna Otto
Player 4 - Laura Black

#4 - Rueng Chang
Chef D'Equipe - Ed Story
Captain - Jason Friedman
Player 1 - Khun Keereekaew
Player 2 - Khun Taweesak
#5 - Mercedes Benz
Chef D'Equipe - Dr. Alexander Pfauffer
Captain - James Manclark
Player 1 - Hiro Suzuki
Player 2 - James Douglas

# 6 - Sara Story Design Team
Captain - Sara Story
Player 1 - Katie Story
Player 2 - Todd Joyce
Player 3 - Jennifer Coffindaffer
Player 4 - Brian Wood

#7 - Johnnie Walker Blue Label
Captain - Christopher E. Stafford
Player 1 - Cameron Humphries
Player 2 - Bjorn Richardson
Player 3 - Rikard Hogberg

# 8- K BANK Thailand
Captain - Col. Raj Kalaan
Player 1 - Robert Mullis
Player 2 - Prab Thrall
Player 3 - Robyn Lourvanij
# 9 - PTT Thailand
Captain - David Wildridge
Player 1 - Blake Macoskie
Player 2 - Tim Beaumont
Player 3 - Frank Constant ( Weekend only)

#10 - Anantara
Captain - Tim Boda
Player 1 - Lars Kerfin
Player 2 = Manish Jha

#11 - Price Waterhouse New Zealand AllBlacks
Chef d'Equipe - Gary Murphy
Captain - Robin Brooke
Player 1 - Olo Brown
Player 2 - Charlie
Player 3 - Paul Stitt ( Weekend only)

#12 - The Nellies
Captain & Chef D'Equipe - Geoffrey Dobbs
Player 1 - Lucy Monro
Player 2 - Robyn Lourvanij
Player 3 - Sartinder Garcha / Wee Tiong Han
---
22-26 AUG 2012 -- YOUNG GUNS VISIT TANG POLO
Heralding the start of the China Open, a "Young Guns" team sanctioned by the HPA visited the Tang Polo Club. The ages of the players were from 11 to 16, and it was the first international youth team to visit Tang Polo Club. The "Young Guns" not only enjoyed the polo but also had the opportunity to visit the Great Wall. During their visit, a summer camp of children from the Beijing was arranged so they were able to show off their skills and do some coaching to the young Chinese children. There was an exciting match between the Chinese and the "Young Guns" which was tied until the fourth chukka when the "Young Guns" ran away with it 7 – 4. It was a wonderful visit and the club is looking forward to the return of the Young Guns next year.
---
22 SEP -- NUSANTARA WINS END OF SEASON CUP
The last tournament of the season in Indonesia was held between Team Garuda and Team Nusantara. Reports filter in that Iman and Bjorn were there, and perhaps Rajiv was back on the field after recovering from his injury, as well as Lisbeth and of course, Daya "La Maquina." The Final score was 6-2 with Nusantara claiming a solid victory over Team Garuda. Both teams played by NPC guests, and junior athletes of the Indonesian team.Nusantara: Bjorn D. van (-2), Lies Capetti (-2), Farell (-2) / Gume (-2) and Billy Barsel (1) Garuda: Howard Chu (-2), Fahmi (-2) / Iman Kusumo (0), Daya Zakir (-2) / Kemal Osman (-2), Glend Majul (1) / Acep Krisnandar (1) This year's award for "Mas Caballero en La Cancha" went to Bjorn D. van Heel. He was thrilled to receive this award and his reply, "oh, that is nice." The MVP award went to Liesbeth Capetti (having just returned from the Elephant Polo in Thailand), and the prize for Newest on the field went to Kemal Osman. See you all next season.
---
09 SEP -- SHY RONNIE WINS SINGAPORE OPEN
The Paisano Polo Academy team stormed the ground at the Singapore Open according to Khun Ploy who was on assignment to check on all the gauchos at the Open. Ronnie has been going from strength to strength since launching the Paisano Academy in Singapore. Chief gaucho Che Pieroni has never worked so hard in his life. At the Argentine Ambassador Cup in Indonesia, he reported that in 5 days, he gave 37 lessons. They now have 15 horses at the Paisano Polo Academy. There are no members at the Academy. They have baby chukkas 2 times per week on Mon and Wed. There is now a "Gaucho Cafe" -- which must be the first Gaucho Cafe in all of Asia. Flaca is working hard to keep Che organized and Khun Toon from Polo Escape is shoeing horses fervently but missing Thailand. Congratulations to Shy Ronnie and the Gauchos and Khun Ploy for an excellent report.
---
30 AUG -- NUSANTARA DEFEATS BLACK DOG FOR SULTAN OF JOHOR'S VISIT TO INDONESIA
It was a brilliant afternoon at Nusantara Polo Club with almost 1,000 spectators and VIPs on hand to pay respect to Sultan Ibrahim Ismail Ibni Almarhum Sultan Mahmud Iskandar Al-Haj, The Sultan of Johor, who was hosted by Khun Bowo to witness the spectacular battle between Nusantara and Black Dog. Black Dog started out in the lead with Roman Rampello from Korea Polo Club commanding his team from the #3 spot. The crowd roared with excitement when Mischa took a mighty strike at the ball and sent in firmly between the posts. Agus also joined the Black Dog team, but it was Hari who stepped into the #1 spot for Nusantara who changed the tide, and put Nusantara back on form and into the lead. Nusantara camptured a 7-6 lead in the fourth and final chukka, and Black Dog missed a 30 yeard penalty and a 60 yard for Nusantara to breathe a sigh of relief and capture the Sultan's trophy and enjoy the day. The afternoon's polo was followed by a brilliant dressage display of 6 Lucitano horses in front of the clubhouse. Thank you all for a magnificent day.
---
05 AUG -- PRINCE WILLIAM AND PRINCE HARRY IN UK
There was a splendid afternoon of polo in English this August with Tang Polo Club's Shilai Liu taking to the field for the first time with Prince William on his team. Khun Top was leading the King Power team with Prince Harry. The two teams showed tremendous sporting play and warm sportsmanship in a friendly atmosphere. Everyone was very curious which team would win through in the end, and in a summer with plentiful amounts of rain, the crowd was pleased that the sky remained clear. At the final chukka, there was a dead tie between these two sturdy teams with the score of 3-3 highlighting the board. All the spectators were very pleased with the result and welcomed Shilai to the the Princely Circuit in UK.
---
04 AUG -- ARGENTINA WINS AT NUSANTARA AMBASSADOR CUP
It was a thrilling match for the 1,000 spectators that turned up to cheer the Indonesia National Team. After 2 chukkas, the Indonesian team was winning 4-2. His Excellency, The Argentine Ambassador, was on the edge of his seat. The Argentinian team had recruited secret weapon Mischa and brought in the very well-known Singaporean gaucho Che Pieroni, but it was Agus, the Indonesian wonder who turned the tide for Argentina. Nico Curto was playing a sturdy back with passes up to Che Pieroni, but then the gauchos connected forward to Agus, two rapid goals were converted and changed the tide of the match. Argentina came out on top with a 7-4 victory and a very enjoyable match was celebrated with club Patron Prabowo dancing the Pocho-Pocho. Actually, everyone was dancing the Pocho-Pocho. If you have ever learned to dance the Pocho-Pocho, one this is for sure, it becomes a part of your soul, and you will never forget the steps. Spectators were very pleased with the performance of Novel, Billy, Glen, Acep on the 5 goal Indonesian team. The Argentine team of Mischa (-2), Tom (1), Nico (4), Nicolas (3) and Agus came to claim the Ambassador's Cup from the Ambassador, Daya, Prabowo, and other distinguished VIPs. The Argentina Ambassador's Cup has become an honored tradition at Nusantara Polo Club in Indonesia -- LEARN THE POCHO-POCHO
---
22-23 SEP -- ROYAL DEFEATS SALUTE IN KOREA
JB Lee reports a very exciting victory at the Korea Polo Club. With two teams on the field -- ROYAL vs SALUTE -- we were sure to see an interesting result, and so it was with ROYAL defeating the SALUTE team 13-12. Royal team : Alex de Lisle 3goal, Tommy Martinez 3goal, JB 0 goal, Rock -1 goal. Salute team : Ross Ainsley 5goal, Eru Barlow 3goal, James -1 goal, Taro -2 goal. It was a hugely successful turnout and Korea is certainly warming to polo on the windy volcanic landscape of Jeju Island. We saw many of the new Korean players at SPP last year for the "Zero to Hero" polo course that was very successful. We are looking forward to seeing a Korea Team in the ALL ASIA GAMES in 2014.
---
26 MAY -- MEGA HORSE TRAILER ARRIVES AT VR POLO CLUB
Chief SPP Vet Mau Cuat has announced that the new King Power Mega Trailer has finally arrived at VR Sports Club. Nicole has complained that this trailer is too big, but everyone else feels that is long overdue. The King Power Mega Trailer can carry 16 polo horses and saddles and tack to any polo field in Thailand. This is an extreme leap forward for polo in Thailand, because VR Sports Club has recently expanded to yearly Beach Polo in Hua Hin, there are horse farms in Pattaya and Khao Yai, and the Polo Escape field in Pattaya. It is also rumored that King Power may be building a new polo field on a farm in Hua Hin. Exciting developments for polo in Thailand and we will take you on a tour of the new Mega Trailer when we can.
---
20 MAR 2011 -- TAL RAKSRIAKSORN INDUCTED INTO LA ASOCIACION
One of the greatest honors that can be bestowed upon a gaucho is to be inducted into La Asociacion de Los Gauchos Timidos. Anyone who knows Khun Tal knows that this is a very humble gaucho, indeed, and this past Sunday was his day, as the Presidente Actual of the Asociation, Lucas Lujan, and El Futuro Presidente of the Asociation, Agustin Andrada, presented Khun Tal with a sticker for his helmet. Khun Tal was beaming with pride at this great honor and could barely control himself as the sticker was placed on his helmet. Tal loves Thai horses, and he said that he was looking forward to upholding the standards and humility of the Association. The 4 Presidents of the Association will be hosting a President's Cup sometime later this season in honor of Tal and his esteemed inductance in the Association.