NEW VET AT SIAM POLO PARK
The club is very pleased to welcome a new vet from Argentina. Facundo is a cousin of the gaucho Pepperoni. He is learning English very fast, and he and Khun Daeng are
having a great time communicating. Facundo's email -- facundopier@hotmail.com -- Other News: 5 teams have confirmed for the SEA Games Polo -- Indonesia, Singapore, Malaysia, Thailand, Philippines, and hoping to hear from Brunei soon. The Ambassador's Cub is coming to SPP in November and there are already two big sponsors -- Mitavite and Holiday Inn. Cabeza Grande is still building his house, and we have pictures to share soon.
Gauchos Pepperoni and Pascual are playing a High-Goal tournament in Buenos Aires. They promised to send photos to SPN to share with all their fans. Estamos esperando los fotos ahora.
KING POWER WINS 10 GOAL TOURNAMENT IN ENGLAND
We received a recent update from the Thai National Team that is training in UK this summer. Cabeza Grande has a new haircut. Ine is visiting and practicing her English with Maria Power. Tal has a new T-shirt with "white horses" on it, and the King Power team won the 10 Goal Gold Cup Dallas Burston Tournament in early August.
POLO IN CHINA
One of Siam Polo Park's friends from Singapore, Steve Wyatt, is setting up a polo club near Shanghai -- Nine Dragons Hill Polo Club -- www.ndhpolo.com. Their first tournament is coming up in October 2007, and we are going to bring you a update on this club soon, because SPP vet Churo is now working there. Frances Leung comes from Hong Kong to play with us at Siam Polo Park regularly, and she sent us this article on Polo in Beijing, China: Tycoon brings polo to China's new elite -- www.sunnypolo.com.cn/maqiu.asp (Reuters) Updated: 2006-11-29 // BEIJING - Warmed by a roaring fire in a hall lined with Victorian paintings, Xia Yang reclines in his clubhouse near Beijing and dreams of returning polo to its glory days as a noble sport favoured by China's privileged. Polo players prepare for battle at Beijing's Sunny Time Polo Club, near the Great Wall in Yanqing County on the outskirts of Beijing October 22, 2006. Polo, once favoured by Tang dynasty (618-903) emperors, has returned to China in its modern form at the Sunny Time Polo club - a curious throwback to colonial times near the Great Wall in outer Beijing. Picture taken October 22, 2006. [Reuters] Once praised by Tang dynasty (618-907) emperors, polo is now virtually unknown in China. But the 40-year-old property developer is banking that China's legions of cashed-up leisure-seekers will embrace the elitist horseback ballgame with the
same gusto that they have golf and skiing. "The growing ranks of newly affluent, and changes in people's ideas towards more healthy and positive lifestyles, has provided a very big market for polo in China," Xia said. Quick out of the blocks, horse-lover and player Xia built the Sunny Time Polo Club two hours' drive from Beijing, complete with stables, 27 horses and trained coaches from Inner Mongolia. Except for the ping-pong table in the hall, the clubhouse has the feel of an English manor house, with swords hanging over the fireplace and heavy wooden furnishings. Red-coated men gallop around a yard outside and belt a practice ball back and forth. Glimpses of surrounding fields where farmers eke out a basic living are a quick reminder the club is in China. Xia, a bespectacled, soft-spoken former architect, has ploughed 12 million yuan ($1.53 million) into Sunny Time. He became interested in polo after watching footage of Prince Charles playing a match with the Sultan of Brunei in 1996. "It struck me as really courageous and visually powerful. I thought it would be great if I could play it myself," he said. Xia is now such an enthusiast that he is determined to "spread polo culture" in China in the years to come. Consisting of two teams of four mallet-wielding players on horseback jockeying to smack a ball through goals at either end of a 300-yard (metre) field, polo is not for the faint-hearted. The club, which only opened last year has around 10 regular members. But Xia is alreading talking of upgrading its facilities to meet international specifications, staging tournaments, and bringing in foreign coaches to improve local players. "China's pace of development is unimaginable, so I am standing on a treasure trove," he said. China now has 250,000 millionaires -- the sixth-largest population in the world -- growing at 15 percent per year, according to a Boston Consulting Group report. The Forbes rich list for China released in November put the combined wealth of China's richest 40 people at $38 billion -- up 46 percent from the previous year. Xia hopes the sport will be a magnet in a business culture where spectacular rises and falls are the rule. Ideal for vigorous types looking for a spirited pastime between boardroom killings, he explained in a salesman patter, the game is also a novel way to meet "many successful figures and potentially beneficial connections." Some influential figures also ride at Sunny Time, Xia said, but had not registered as members bcause "they did not want people to think they had leisure time". Such shrinking violets, however, are less and less common among China's affluent. With a spreading perception that business success is as much forged in the clubhouse as in the boardroom, private clubs have exploded in China's major cities. But even in Xia's posh clubhouse, the lure of patriotic glory -- powerful in the country preparing to host the 2008 Olympics -- exerts its pull. Xia dreams of turning China into a polo powerhouse to rival Argentina and the United States. "Golf, tennis and snooker have reached a very fast phase of development in China. Polo will be the same," he said. In September, Sunny Time hosted China's first international polo meeting of sorts, inviting clubs from Australia and Singapore. Several hundred people watched the Chinese side beat Singapore's team, before going down to the Australians. "Although they didn't have a clue what was going on, they were enjoying the day out," Ian Brown, an Australian consultant hired by Sunny Time, said of the crowd. Sunny Time can provide Arabian horses, equipment and an hour of polo training for as little as 500 yuan ($64). Brown, head of a polo club in Queensland and a former Australian national player, said he was impressed with the Chinese players' progress and the chances of the Asian country giving the sport a fresh, less snobbish face. "Sure it costs a few bob, but polo could certainly have a bit more of a rock and roll image," he said.
SUDDEN END OF SEASON TOURNAMENT
The weekend of 14 and 15 July was the Sudden End Of Season Tournament. It was sudden because no one knew that it was the End of Season Tournament until after the last chukka on Sunday. Kuppa won the final day, but the real polo was played on Saturday with the sudden appearance of Gallego back on the field. We had not seen the Gallego for some time. Some people said that he was in Spain, others said that he was in Russia, there were also reports that he was sighted trekking Tigers with Ma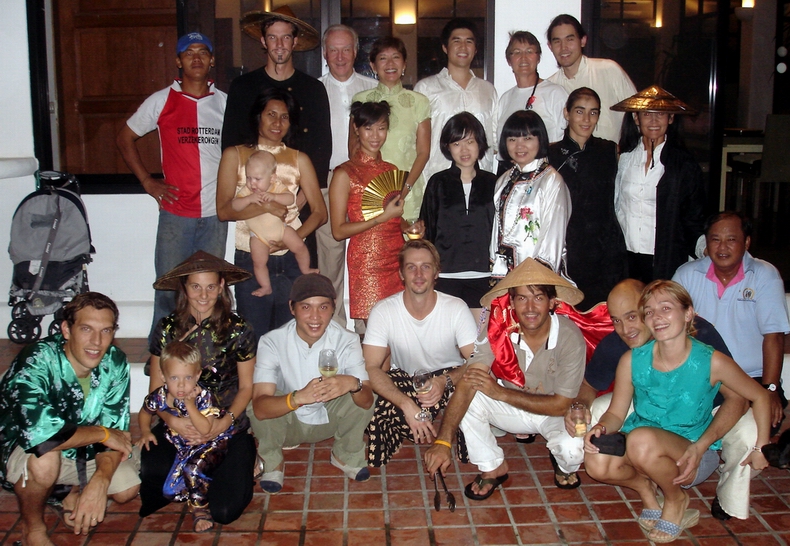 oist insurgents in the Jungles of Nepal, but in fact, he was back in all his glory on the polo field. The Gallego came in to replace a sleeping Sean and to spur the Siam Polo Park team into action. Gallego scored goals, and got less penalties than normal. Even his dogs were happy. Khun Dang was on hand to award the Recycling Polo Trophy. This is a trophy that we use to award to the winning team every weekend. It looks good, and each weekend, we can use it again. The real fun started after the game. The theme was China Dress, so many people arrived in their Chinese Cheepaws. The event was held in honor of the Siam Polo Park Polo Vet Churo who was leaving the following Monday for China. Churo is most likely the first Polo Vet to work in China, and he will be charged with many duties at the Nine Dragons Hill Polo Club near Shanghai. Of course, many enthusiastic Thai polo players are very interested to visit Churo in China, so it is very likely that there will be many Thai-Chinese Polo relations and friendship matches in the near future. Any questions, email Churo -- churo@argentinapolo.com. The staff and members of Siam Polo Park would like to thank everyone who
visited this past year and who played with us at the club. It was a fun season, and we would especially like to thank Khun Vichai Raksriaksorn. It is Khun Vichai who provides most of the horses at Siam Polo Park for people to use, and without Khun Vichai's generosity, there would be no Members Polo Club in Thailand. We are also very excited to report that the SEA GAMES polo matches will be held at VR Sports Club and Siam Polo Park. The controlling body for the SEA GAMES has recognized that TPA (Thai Polo Association) has full authority to chose the locations for the Polo Events at SEA Games, and the TPA has decided that the two fields
will be VR and SPP. Everybody stay tuned for a very exciting polo season coming in October. Siam Polo Park will open again in October, and there is a NEW VET arriving on Friday 20july2007 named Facundo Nicolas Pieroni -- yes, he is a relation to our very own Pepperoni -- and it will be very interesting to see how he fares amidst all of the charms that polo has to offer at SPP. Also, we have heard that the Argentinean Ambassadors Cup (6 goal tournament) will be held in November 2007. More details coming. If you would like to join this tournament, then email the club. Churo new address in China -- Churo Pellegrini, Nine Dragons Hill Polo Club, Estate at Nine Dragons, Ping Hu, Zhejiang 314201, CHINA.
KING POWER TAKES 10 GOAL GOLD CUP IN ENGLAND
On 08 July, King Power Team of 7 Goal Lucas DiPaola, Top, Tal, and Cabeza Grande took the Gold Cup at Dallas Burtton with a score of 8-6 in England. In the semi-final, Amigo Tsu took the place of Khun Top and he played very well. We are waiting for pictures. Previously King Power-Thailand Team was playing with Prince William and Cambiaso in the Charity match for Tusk Wildlife Charity and Thailand won 6-2. There has been lots of rain in England this summer, so polo dates have moved around a bit.
KING POWER SMASHES BLACK DOG AT SPP
On Sunday 08 July 2007, a different King Power team with new powerhouses Khun Tomy and Khun Scott smashed the Black Dog team 9-4. There were a controversial two goals by King Power in the first chukka when the Dog Team had stopped for fouls, but in the second and third chukkas, very good polo was played. It was 6-4 going into the final chukka, and then the King Power team showed their true metal and punished the dogs. Khun Daeng was on hand to supervise and provide Nut Powder to the Dog team. Churo the first Polo Vet to go to work in China was gracing the Dog Team with his presence, and dogs also had the powerful Nyata-Camperito combination, but it was not enough to win the day. Khun Suzy was in the Umpire position and made some very good calls, as her confidence is growing by the game. Also, we noticed a NEW TRUCK from the Polo Escape camp with 7 horses on board. A beautiful looking truck with Nyata at the helm, and we can't wait to see it when the POLO ESCAPE logo will be painted on the side.
SINGAPORE VISITORS AT SPP
On Saturday 23 June 2007, We had a host of visitors from Singapore Polo Club coming to visit and play with us at Siam Polo Park. Kerry and Graham Bones spent a week at SPP practicing stick and ball and working with Marco on their skills. Graham was a special hit on Saturday, because he wore his Genghis Khan Polo jersey (which was in celebration of their 800th anniversary). Many club members were jealous. We also had the honor of having Henry Rourke playing with us. All three are members of the Singapore Polo Club, and they enjoyed playing club chukkas with us on the weekend. They also humbled us by telling us that in 2005, the Singapore Polo Club played 1300 chukkas on their one field in a single season. This must a world record of some sort. We have good news to report that Khun Scott has finally taken to the field, and Khun Cherry is a very accomplished photographer, so we will have some polo action to share with you shortly.
KING POWER WINS MATCH AT BERKSHIRE CUP -- Thai polo Action in England. King Power wins the 19 Jun 2007 match at the Berkshire Cup with the score 7-3. They lost the previous Berkshire Cup, so they are back on fire. This is a ten goal tournament.
15 JUNE 2007 -- SPP hosting Fobissea Games
Siam Polo Park will be hosting the Fobissea Games on Friday 15 June (8am to 5pm) -- www.fobissea2007.com -- with over 600 people from Southeast Asia International Schools attending this event.
16 JUNE 2007 -- POLO ROUND TABLE #2
Last Saturday, the Polo Round Table was very successful. Many experienced and new polo players attended and we had a full hour of lively discussion and instruction from Marco. There was also good input from some of the members who had questions and were able to receive feedback from some of the other players. This coming Saturday, we will have another Polo Round Table. This week, we are inviting Marco to present his theory on Ball Control. Churo will make a presentation on Polo Horse Injuries and share with us some of his experiences treating polo horses over the past 3 years. Also, we will invite Peter to give a short talk on Polo Riding Position (from his perspective) as a previous jumper and now a keen polo enthusiast. EVERYONE IS WELCOME FOR FREE -- WHETHER YOU PLAY POLO OR NOT. FREE SODA DRINKS. Following the Round Table, we will be having the second playing of the BARBOSA CUP -- Barbosa is the patron saint of the gauchos in Thailand. We are also hoping to have the first chukka of the BARBOSA CUP to be "baby chukkas" which are slow, so that we can invite new players SCOTT and PETER to play with us. Let's see if they can join us.
POLO ROUND TABLE SUMMARY
On 09 June 2007, for the first time in Thai Polo History, the gauchos conducted a polo round table presentation and discussion to share their knowledge of polo with members and enthusiasts. The event was very successful. New player, Scott, showed up and had very good questions about the difference between "Line of the Ball" versus "Right of Way." Suzy and Robin had many questions on approaching the line of the ball and at what point does an infringement of the line occur. Marco gave a good summary of the IFP rules for 30, 40, 60 and Corner penalties. Sean had many questions about how to take advantage of the Near-side position to change the line of the ball and then to claim the line without making a foul. Marco also gave a very good review on HORSEMANSHIP and HITTING. It was very helpful. The nice thing about the Round Table, was that, right after the meeting, we were able to go onto the field and implement what we had learned. Thank you to all the gauchos for a very successful event. -- The last time there was an organized polo instruction at the club was several years ago when a previous Club Chairman invited members to take lessons with Rege Ludwig. Each lesson was over 4,000 Baht per person per lesson, and initially everyone was invited, but then some people were told that the class was full and they could not attend. The New Polo Round Table will never be full, and everyone is always welcome for free. The idea is to teach people how to play polo to the best of their ability. If you have ever thought you might want to try polo, this is your chance to take the first step. Come and learn for free. Bring your short sticks for practicing tactics on foot. If you would like to come, just show up or send an email to POLO ROUND TABLE. See you there.
INVITATION TO JOIN THE THAI NATIONAL POLO TEAM FOR S.E.A. GAMES 2007
The Thailand Polo Association invited Thai Nationals the opportunity to play polo for their country in the 2007 S.E.A. Games. The Applicants had to comply with the following: Be Thai Nationals, Have their own horses, Fill out an Application -- Application Form, Submit the Application to Thai Polo Association from 02 Apr - 23 Apr 2007, Attend orientation 26 Apr (10:00am) at King Power Complex in Bangkok, Attend Team tryouts 28 Apr - 28 May. The National Polo team was announced on 04 Jun 2007 -- Khun Top, Khun Ton, Khun Tsu, Khun Noo, Khun Nat, Khun Toto. For more information, call Khun Pam --

081-494-1725. On May 22, 24 and 26th Thai National Polo Team Tryouts were held at SPP (4pm). Everyone was welcome to watch. Pictures coming shortly.
INDONESIA POLO EXPEDITION
This coming weekend, there may be a team from SPP flying to Indonesia to play against Prabowo's Indonesian team. This could be the first time an international polo team has visited Indonesia. It will be very interesting to see what is going on down there. (Potential Thai Polo Team: Marco, William, Tom, Matias). Update: todo cancelado. The expedition was cancelled, but Eric Butter wants to go on this expedition so badly, that we will have to orgainze it again soon!!!
PAPUA NEW GUINEA TEAM
05-06 May 2007 -- Siam Polo Park hosted a tournament with a very interesting team of 4 brothers from Papua New Guinea. Henry, Charles, Edward and Oliver Thirlwall grew up in Papua New Guinea. Their father, Julian, started the first polo club there in the 1990's. They had about 25 players at their peak, and the four brothers would return from King's Boarding School in Sydney to play with their father. Now, they are all over the world. Oliver speaks Mandarin and is working in Beijing, China. He reports that there are two polo clubs there. Sunshine Polo is an indoor polo ground 1.5 hours from Beijing towards the Great Wall. They have 8 players, including the Jordanian Ambassador and his son. The guards salute you when you enter the club. They have enough horses for two chukkas, and they pay US$25 each for the two chukkas about 2-3 times per week. The outdoor club is called Sunnytimes Polo. It is also near the Great Wall. It has one owner and one member. Their season is Apr-Oct. It is not too rainy in that area, but it is cold in the winter. They have had one exhibition game at this field.
Charles speaks Korean and has interesting stories about rollerblading around Pyongyang, North Korea. He is based in Maimi where he has a fleet of advertising scooters and is working on setting up franchises all over the world. Edward has played in Zambia and is now in Sydney where he owns the Lounge Cafe and has just gotten his private helicopter license. Henry is in Shanghai, and has promised to come back and play with us again soon. The brothers had many stories of restless natives and forgotten jungles in New Guinea. They played well, had some great hits, and this was the first time they had played together since they were in New Guinea many years ago. They were playing against the Indonesian Team of Eddy Yunarko (from Jakarta) and Dudung (from Bandung). The Indonesians also had Tom and Marco on their team, and then when Dudung came off, the Indonesians had a further complement of Churo, Matias, and Pablo joining the team. The brothers New Guinea were very good sports and did not mind that their humble Indonesian competitors had turned into an Argentinean Powerhouse during the course of the game. Eddy has come to SPP to learn about stable management and polo from 25 Apr - 14 May. He works at Batavia Polo Club at Jagorawi Golf and Country Club (30 min South of Jakarta). Peter Duncan is one of the shareholders and so is Bernard von Bunnik. It was a new club in 2003. Now they don't have any grass on their field. SPP friend Prabowo is now making a new field and apparently the two polo clubs will play on this new field. Eddy has been teaching some of the gauchos at SPP how to speak Indonesian, and he reports that they have 7-8 members in their polo club in Indonesia.
THAI POLO CLUB NATIONAL TEAM CANDIDATES
Thai polo history was made yet again on 29 April 2007, as a team from Thai Polo Club appeared at Siam Polo Park for the first time ever. Thai Polo Club Manager Santi and Chief Gaucho Manuel brought over the Candidates for the Thai National Team to play with some members of SPP and to make a video recording of the game to send to Thai Polo Association in Bangkok. The Thai players are Khun Nat, Khun Nuee, Khun Toto (we think this is the correct spelling). Khun Nat has spent the past year and a half in USA with Rege Ludwig. Khun Nuee and Khun Toto are players and grooms at TPC. They all played very well, and it was a pleasure to have them come to visit. The candidates from TPC
were following the instructions of the TPA by filling in the applications and attending team tryouts as specified by the TPA. This video will be sent to TPA office for analysis by the Thai National Team selection committee. The TPC Thai National Team candidates were playing with Khun Marco against Khun William and some visiting members and they defeated the SPP team 5-3 in five chukkas of play. We noted that Khun Nat was looking very confident and hitting the ball very far. Khun Toto had an excellent run to goal, but was feeling a little nervous. Khun Nuee was happy to be on the field and enjoyed the activities. After the polo, the TPC team came to sit and talk at the club house. It was also Manuel's birthday, so there was a very special expedition in his honor. Good luck to the 3 members of the TPC who are trying out for the Thai National Team, and we hope to see Thai Polo Club back to play at SPP in the future.
VET SPOTTED IN BANGKOK
Siam Polo News recently witnessed a romantic dinner in Bangkok. The Vet from VR Sports Club was having a romantic dinner, complete with wine, with Khun Erika. We hadn't seen Erika around for quite some time, but from the pink looks on their faces, we are happy to report the romance is alive and well. Daniel will be traveling to England on 28 April to work in Theale with Coach Cabeza Grande assisting with the training of the Thai National Polo Team.
CHANGING NAME
It is reported that Thai Polo Club will be changing the name of their club. We are not sure if it is true, but this is a good time to have a competition to guess what the new name might be. If you would like to enter the competition, then send your guess to info@siampolonews.com and we will wait to see if you are correct. If anyone can correctly predict the new name, they will receive a fully-sponsored expedition with the gauchos.
"POLO ESCAPE" CUP
On 21-22 April 2007, there was a very pleasant polo tournament organized at SPP in the name of Polo Escape. On day1, Polo Escape won 5-4, but this was a warm up game. on day2, the two teams tied at 2-2. So the tournament was a draw (and we will have to continue again). The two teams were SPP (William, Sean, Pablo, Mathias) and Polo Escape (Suzy/Robin, Marco, Churo, Tom). Polo Escape is the newest polo club in Thailand, and Khun Suphanee Lourvanij (prounounced Lao-Wan-Nit) is a very keen polo enthusiast. Polo Escape is planning to be an "upmarket Bed & Breakfast." They currently have 23 horses, and their goal next year is to have 32 horses. Suzy feels that polo in Asia is growing. She and her sister, Robin, love Pattaya and feel that the city is growing from the days when she used to water-ski from the fishing village in the 60's. Suzy's favorite shot is the under-the-neck, and her favorite player is Marco Focaccia, because she enjoys watching his ball control. Polo has taught Suzy the importance of "playing as a team" and also about communication. Her biggest challenge is to hit the ball properly. Her golf handicap was a 9 at her peak, and maybe an 18 now, and Suzy points out the swings for golf and polo are identical. She has now been playing polo for 4 years, and she thinks that polo teaches one a lot about anticipation and focus. Polo Escape is made up of 170 Rai at 121km off Hwy 319 towards U-taphao Airport. She has a stable manager, Nyata, and a vet, Pee Om, and two chaps running the farm. They have already planted alfalfa, and pangola (grass), and they are attempting to grow clover (but it may be too humid here for that). Suzy says that there are now so many horses in Thailand, that we are running short of hay, so she wants to try to become more self-supporting. She is also planning to plant Mangosteen, Mango and Maprang (small yellow fruit) - for snacks to eat between chukkas! The layout is for a full field of 330meters x 170meters and a practice field that is half that size. She has planted Bermuda Grass (Hybrid Tifton 419). It is a deep green grass with good horizontal grown for quick recovery. Soon after she planted the grass, Khun Link and Khun Nuntinee from Thai Polo Club went over to visit her club, and it is rumoured that they will be using the grass on the new field at TPC, so Suzy must be on the right track. It was Khun Nuntinee Tanner who first introduced polo to Khun Suzy and was instrumental in getting the two sisters to play. She lent Suzy and her sister horses 4 years ago and invited them to a clinic by Rege Ludwig. This is where Suzy learned about the "Nut Cracker." She explains that this is the special technique used when turning to hit the ball -- your legs are like scissors, and you have to crack the nuts!!! We didn't ask her to explain any more. Suzy is in the process of building 12 rooms at Polo Escape, and they will have the famous Kuppa Restaurant there too. Polo Escape is a member of TPA, and she is very pleased at the success of the recent Women's International Tournament (with a "twist"). Suzy's philosophy about life is to "Walk the Middle Path" (in Thai: "Deun-Sai-Klang"). Her work is to run ACT Leather which exports leather furniture to USA, UK, and Japan. She has 24 stables and 24 coming. "We will be playing at Polo Escape in September, and we are going to invite other clubs to play -- inter-club friendlys with great asados after." Map to Polo Escape
BRUNEI VISIT to SPP
Brunei visited SPP on 20 April 2007 to play some polo with Marco, William and Suzy. They mixed up the two teams. It appears that they may have been looking for the Thai Polo Club field, and went to the wrong field. Anyway, they enjoyed playing polo and the two teams tied 8-8.
POLO PEOPLE
Peter Schlageter is the number one fan at Siam Polo Park. We call him "Coach." He comes to almost every tournament, and this year, he came to the club for his first polo lesson. Peter was the coach for the Asian Equestrian Team in 1979 (Peter, Mohamed, Asad from Singapore), and he has been riding for 50 years. Normally, he rides everyday. His specialty is dressage and jumping. Since July of 2006, he has been sponsoring Khun Plau (age 16) so that she can compete and gain proficiency at a high level. Peter leases the horse "Daquiri" at Horseshoe Point. He schools the horse during the week, and Khun Plau jumps it on the weekend. She started at 80-90cm, and she is now up to 1.1meter. Peter loves polo. He thinks that it is the most difficult sport there is, because it involves a complex combination of speed, horse, hitting, ball, and tactics. Peter is now living in Thailand, and his dream is to play in a polo tournament. Peter reminds us all, "that it is never too late to be what you might have been." See you on the field.
WOMEN'S INTERNATIONAL POLO -- ARGENTINA TAKES THE CARRETAS CUP

14-15 April 2007 Siam Polo Park hosted the first ever Women's International Polo Tournament in Thailand. Teams were invited from Malaysia, Singapore, and Australia, but unfortunately these teams could not come. The gauchos in Thaila
nd are always ready to fill in and lend a hand when needed. In this case, we brought out a bag of balloons and instantly transferred all the gauchos into gauchitas to fill in the missing members for the Women's International Polo Tournament. There were two teams: Argentina, captained by Khun Robin and Thailand, captained by Khun Suzy. The battle was fierce as balloons were bursting all over the place and bouncing across the field in the midst of the tournament. The score was high too, with Argentina pulling out into the lead 10-8 at the end of the first day. On day 2, Thailand evened the score to an even draw until the final minute of the last chukka when Marcosina walked the ball into the goal. There was then a blur of speed on the far side of the field as Khun Malinee hit a cracker of a shot from mid field over Khun Tong's head, which went wide at the final bell. It was a stunning victory for Argentina 13-12 at the first playing of the Women's International Polo Tournament in Thailand. Argentina Team: Robin, Seanina, Pablina, Marcosina (with Umpire Rompe las Pelotas). Thailand Team: Khun Suzy, Khun Ning, Khun Tong, Khun Malinee (with genuine coach Khun Patpat).
SONGKRAN CUP 2007
08 April -- Every dog has his day, but not for the Black Dog Team at this year's Songkran Cup. This year, we had a record 4 teams entered into the Songkran Cup. Such is the competition for this prestigious cup. It is special, because the winning team gets to award the losing team with several buckets of extremely cold ice water to ring in the Thai New Year. The first round between VR Sports Club and Black Dog was close in the first chukka, but VR severely beating the dogs in the second chukka. The second round between Kuppa and SPP was a very close game, with Jilly's Dad taking three determined drives down to goal, but Kuppa won in the end. This
produced a final between Kuppa and VR, and VR won the cup. However, all the eyes were on the two losing teams of SPP and Black Dog, because this is where all the fun is. It was an extremely close game with Simon DiPaola leading his team in a determined fight down the field. The Dogs were commanded by Pepperoni, and let a very determined defense. The teams were tied 1-1 at the end of the first chukka. The second chukka was tense, scoreless, until Pepperoni waited on a line to send the ball downfield, and SPP's Simon took it away and straight into goal. The Dogs were then forced to lay down and wait for many minutes until the ice water was poured upon them. It is interesting to note that every one of the Dog Team members has received this award before in previous years (Daniel, Tumb, Tom, Pepperoni), so this was a special reunion to have all previous recipients on the same team to receive yet again. Last year's triple-recipient of the Ice Water, Khun Marco, was this year a very keen ice water pourer -- as were Khun Top and Tal. Thank you VR Sports Club for this very fun event and for the delicious dinner. Khun Aktanai and Khun Tuk were on hand to present the awards.
VR TEAM: Top, Tal, Vichai, Cabeza.
SPP TEAM: Simon, Jamie, Susy, Tsu.
KUPPA TEAM: Marco, Robin, Matias, Noo. (reserve: Boong)
BLACK DOG TEAM: Pepperoni, Tom, Daniel, Tumb.
MIDNIGHT POLO
On any given Wednesday - 04 April 2007 (00:00hrs) - for the first time in the history of polo in the world (as far as we know), there was a Midnight Polo Tournament held at VR Sports Club "under the lights." VR took Black Dog 3-1 in the first round after a tie in the first chukka. VR took King Power 5-3 in the second round with a tie after the first chukka and several determined drives down the field by King Power. Khun Top who was partially asleep in the first round transformed into Cambiaso
in the second round. Khun Vichai, who managed to keep his horse awake, was also able to put away two goals and to receive his Birthday Cake in the middle of the two chukkas which gained him the coveted "man-of-the-match" award. There was a furious battle between King Power and Black Dog in the third round. Simon DiPaolo was on fire, but apparently his team has not been on enough late night expeditions together. They were showing signs of wear in the early hours of the morning and thought "El Perro que ladra no murde" (the barking dog does not bite), and the Dogs did bite in the final minutes of the last chukka with a final score of 3-1. Khun Tumb received "Man-of-the-Match" for the Dog Team and Khun Boong for the King Power Team. We tried to get Cabeza drunk before the match, but we were unsuccessful. It was a very fun tournament with Asado before polo under a full moon with fireworks across the field at 1:30 in the morning. Khun JJ was on hand to present the awards to the teams. Congratulations to VR for winning the BIRTHDAY CUP and to Black Dog for winning the MIDNIGHT CUP. VR Team - Top, Tal, Vichai, Cabeza. King Power Team - Simon, Noo, Daniel, Boong. Black Dog Team - Pepperoni, Tom, Tumb, Tsu. Umpires: Marco & Matias. Khun Vichai had previously asked Daniel and Cabeza to let the horses sleep during the day, so that they would not fall asleep on the field during the game. Cabeza assured him that "the horse playing polo never sleeps." This is a new refran for all the gauchos to remember -- El Caballo jugando polo nunca duerme.
TOP IN DUBAI CARTIER CUP
Friday 30 March 2007 Khun Top was in Dubai playing for Qatar Airways in the Cartier Cup. 4 Chukkas of 10 goal polo against Dubai National Bank Team. Qatar lost 5-6. Cambiaso Top scored 3 goals. Khun Tal was the official Thai photographer.
6-15 DEC 2007 -- POLO IN SEA GAMES
This will be the first time polo has ever been played in the Southeast Asia games. All the countries have been training very hard for this moment. Khun Jate has informed us that Horseshoe Point has been selected as the venue for Dressage and Jumping Competition for the upcoming SEA Games.
The dates are:
December 6 -9: Dressage
December 10-12: Jumping
December 13-15: Eventing (Cross Country, Dressage, Jumping)
The "Eventing" will be taken place at Thai Polo Club. The President of Thai Equestrian Federation (TEF) has appointed Harald Link to become the Director in Chief for organizing the event, which includes venue, entertainment, accommodation (to non-participants), F&B, logistic, communication and etc. TEF has 2 objectives: 1) Recognized as the best host ever for Equestrian Competition in SEA, and 2) Recognized as the most complete venue for equestrian. We thank Khun Jate for this update, and when we know the venue for POLO in SEA Games from the Thailand Polo Association, we will let you know.
POLO IN CHINA
April 2007 - The Nine Dragons Hill Polo Club south of Shainghai China reports great progress with their polo club. Their first horses have arrived from different far corners of the globe (which is no easy task in China as horses cannot be imported unless for agricultural purposes -- polo has not yet been accepted as an "agricultural purpose." The first phase of the clubhouse has been completed. You can see from this photograph what a unique setting the polo club is in. Congratulations to Nine Dragons, and we will keep you posted on their progress.
YANEZ ICE BOOT
Thailand is on the cutting edge of developing revolutionary polo technology. Dr. Daniel Yanez of VR Sports Club has recently invented the Yanez Ice Boot. These unique boots are used in the stables after polo to cool the horses tendons. The boot slides over the horses leg, then is secured at the bottom with velcro, and then filled with ice. The horse can remain in the box with the Ice Boot for about 25 minutes, and then it is removed. Injuries to tendons come from three main reasons: field, training track, Ferrier, but also from the mallet, the ball, slipping on the field, or improper riding. This boot allows ice to be applied directly to the injured tendons immediately after the game to prevent excessive swelling from injury for speedier recovery. We will be updating this with a photo of Dr. Yanez and his Ice Boot soon. Order Ice Boot from Dr. Yanez
KING POWER GOLD CUP GOES INTERNATIONAL
24-25 March 2007 King Power Gold Cup returned to VR Sports Club. Previously, the Gold Cup was only played with teams from Thailand, but this year was the first year to have 4 international teams -- Singapore, Malaysia, Brunei, and Thailand (all teams 0-4 goals). It was also the first time a Thailand team has ever played with no professionals on the team. The reason for the tournament was to give experience to the teams that will be playing in the SEA Games in December 2007. It was a very exciting tournament with many faithful polo fans on the sidelines and one very nervous Thai coach. Singapore team (Tan Hock, Ang Roon Kai, Ang Ban Tong, Yeo Kuo Lee) -- was very spirited with their leader Kuo Lee (the current holder of the Ambassador's Cup) explaining that he had brought his team to gain experience and to have fun. Malaysia (Jagdeep Kairon, Peter Abisheganaden, Dato Mohamed Moiz, Ali bin Mazlan Harun) -- The team was in very good form showing the hundred years polo experience that they have in Malaysia fielding a very impressive team with Mohammed, Ali, Peter and Jag (Peter was awarded the Commentators-man-of-the-match Award for his hard play and great sportsmanship to the game of polo). Mohamed is the Polo Captain at Royal Selangor Polo Club in Kuala Lumpur. Brunei team (Pengiran Anak Haj A
bdul Rahim Kemaludin, Mohamed Amin Bungsu, Majore Haj Huzaimi PDH Haj Husin, Abu Kassim Haj Mohamed) -- came ready to play polo. The rain has stopped in Brunei now for the past month, so the team had been practicing hard for the past month. All of the members of the team were playing very well, but by the third chukka on day one, Malaysia had found their weakness -- to draw them to foul. Brunei hung in there and claimed the victory by 1/2 a goal. Thailand (Chanothai Songvanich, Thanasin Chuawangkham, Apichet Raksriaksorn, Aiyawatt Raksriaksorn) -- was a little nervous when they first took to the field. Top and Tal have had a lot of high goal experience, so they were not too worried, but new players Tsu and Noo were very quiet going onto the field on the first and second day. The final between Thaiand and Brunei was truly an classic game of polo to watch. Malaysia kindly provided umpires Peter and Ali to officiate the match, and they did an excellent job. Khun Tsu was sent off the field in the last two minutes of the third chukka for elbowing a Brunei player. Brunei capitalized on this opportunity and brought the score to only 1 goal difference. Then Thailand scored again, and Brunei - it was certainly down to the wire. Either team could have won this brilliant game. Brunei learned a lot from the previous day and only fouled 7 times, with Thailand committing 8 fouls. In the end of the tournament, Thailand won the King Power International Gold Cup. King Power was the sponsor for the tournament (the teams just had to pay for the plane ticket, hotel, transportation) and Khun Vichai hosted a grand dinner for all the players and gauchos after the final. We also like to thank Mr.Krirkvitch (Kirk) - krirkvicth_y@kingpower.com or +6681-773-3079 for his assistance with this event and welcome him to the world of polo.
Saturday - 24mar07
(4pm) -

Thailand

vs Singapore -

10-3


(5pm) -

Brunei

vs Malaysia -

5.5-5


Sunday - 25mar07
(4pm) - Saturday's losers play for 3rd and 4th.

Malaysia

vs Singapore -

13-2.5


(5pm) - Saturday's winners play for 1st and 2nd.

Thailand

vs Brunei -

5-4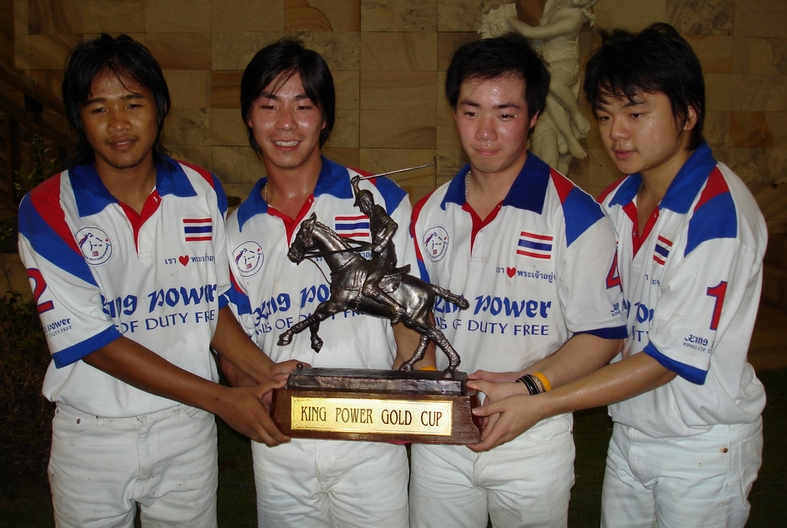 Winners of King Power "International" -- Malaysian Umpires (Peter & Ali) -- Polo Vets with Camperito


Enthusiastic polo fans (including the Captain of the 2004 Championship Thai Elephant Polo Team)


Coach & Agustina (celebrating for Ivan) -- Everybody -- Khun Vichai with his ladies


Coach Jamilee with his Malaysian Team -- Gauchos celebrating with Thai team -- "The Parrot and The Ganga?"
GAUCHO ABIERTO GOLF BATTLE FOR THE "TINTIN CUP"
24 March 2007 was the first playing of the TinTin Cup at VR Sports Club. There were 5 gauchos on the field -- all wearing their TinTin T-Shirts in respect to the Cup. Cabeza Grande surprised everyone with the improvement in his level of play. Obviously, while coaching the Thai National Team, he has found some time to practice on the VR Golf Cancha. The clear winner by a mile was Simon DiPaolo with a commanding performance, but we think that he is just lucky that Churo was not on the field. The other gauchos were "flojo" as Pepperoni's dad so eloquently put it. However, Khun Aktanai showed up on Sunday for a training session and VR Club Manager, Gung, has been working over time to improve the standard of Gaucho Golf in Thailand, so the next Abierto could be more interesting.
POLO FIELD AERIAL INSPECTION TEAM
The gauchos have many responsibilities, but one of them is to fly around and check on the condition of all the polo fields in Thailand. Sometimes, the gauchos find new polo fields, and this is good for the gauchos, because the more fields the better. The gauchos always bring their polo sticks on this mission and stop for lunch somewhere. This time, Simon was the Captain, and in true Santos Anca fashion, we removed the doors from the Wilga so that we could "llegar, pensar, pegar" without obstruction. On this survey, we discovered that the Siam Polo Park field is looking in very good condition; Thai Polo Club is constructing a second full-size polo field (just South of their current field); Polo Escape is planting Bermuda grass on their polo field; and VR Sport Club is about to build a second full-size polo field. It was a successful mission, and this time Pepperoni did not yell "cloop" (meaning "club" - but sometimes misinterpreted as "loop").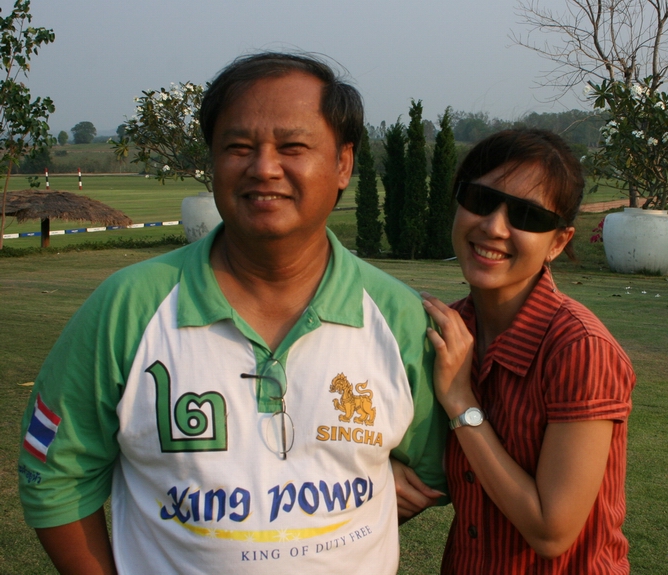 KING POWER & B.GRIMM CHALLENGER CHARITY CUP
There is a rumor going around that King Power wants to invite B.Grimm to play a friendly two day tournament at both their fields. The teams would be Thai with no professionals, and the loser will kindly make a large undisclosed contribution to some charitable organizations. If the rumor proves to be true, it sounds like a great way to raise money for charity and see some Thai polo action. Let's go Polo.
COACH BOWO LEADS SPP TO VICTORY
SPP defeated ACT 8-7 on 17 March 2007 with a narrow victory thanks to Coach Bowo's tactics. The Siam Polo Park tournament was cancelled and a very exciting SPP vs ACT tournament was held in its place. SPP started ahead in the first chukka, with William catching up for ACT in the second chukka. The teams were drawn in the third, and ACT pulled ahead in the final chukka. Hari from Indonesia was playing for SPP, and Coach Bowo was close on hand to give some advice to the SPP team during the final chukka. Bowo has informed us that Indonesia is looking forward to playing in SEA Games in November. He is taking his Indonesia NUSANTARA team to Argentina this summer to get ready. Bowo also informs us that his polo field in Jakarta will be ready in August 2007. They are putting the grass on now. The polo field is right next to the Jargowen Golf Club (not sure if that is the correct spelling). It takes 30 minutes to get there from Jakarta if there is no traffic. Thanks Bowo for coming to coach our SPP team. SPP Team - Marco, Tom, Hari, Robin. ACT Team - William, Matias, Sean, Suzy. Sunday's club chukkas photographed by Hugh -- http://www.pbase.com/hughden/siampolo
NOVEMBER?? -- RMPA SEA POLO LEAGE AT THAI POLO CLUB
This tournament was scheduled for April and now appears to be rescheduled for November 2007 (only two weeks before Southeast Asia Games). We are sorry that we can't give you more details, but it is very difficult to find out from the organizers what is actually happening with this tournament. We will be sure to let you know if we find out. If the tournament does happen, it will be the first time that the polo league is played in Thailand. The Thai Polo Club has a beautiful new POLO BAR imported from England. The handicap of one of these tournaments will be 12-14 goals. RMPA POLO LEAGUE was conceptualized by His Royal Highness Tengku Mahkota Pahang, Brian Miller and Dato' Mohamed Moiz in 2002. The first ever RMPA Polo League event was held in Singapore in June 2005. The Cartier International was a 13 to 16 goal tournament. Three teams took part - Royal Pahang Polo Club, Royal Selangor Polo Club (Ranhill) and Singapore Polo Club. Singapore Polo Club were the winners of the Cartier Cup. The second leg of the league was held at the Royal Selangor Polo Club in Kuala Lumpur at the Ranhill International Polo Tournament in July 2005. This was won by Royal Pahang II. The League Finals were held in the royal town of Pekan, Pahang, hosted by H.R.H. Tengku Mahkota Pahang and the Royal Pahang Polo Club. Five teams participated, two from Royal Pahang, Cameron Highlands, Royal Selangor Polo Club (Ranhill) and Singapore Polo Club. Dato' Mohamed's Royal Pahang II team won the league play. The B Division at 2 to 6 goals, offered easy participation as far off as Jordan as HRH Prince Rashid led a team from the Royal Jordanian Polo Club. Five other teams participated. Royal Selangor Polo Club, comprising of Johan Indot, Nicholas Kosmatos and Peter were the winners of the B League. This year the South East Asian Polo Leagues have grown in stature. The High Goal League has been renamed as the RMPA International League. Three legs of the league again will be held. The first was the Cartier International in Singapore in June. Royal Selangor has the middle leg. The League Final will again be held at the Royal Pahang Classic as part of the 80th anniversary celebrations of the Royal Pahang Polo Club. With the inclusion of Harald Link and Nicholas Kosmatos' Thailand Polo Club, there are six teams in the International League. The B League has been renamed National League. It will have only two legs this season. The first, at Royal Selangor in early July was a hotly contested affair. Four teams participated, with Sher-E-Punjab beating defending champions Royal Selangor in the finals. The Final shall be held as part of the Royal Pahang Classic. The RMPA's South East Asian Polo Leagues now has participation by teams from three South East Asian countries, Singapore, Thailand and Malaysia. There are also many Asian and international players. There is no doubt the leagues have revitalized polo in the region. Clubs like the Royal Selangor Polo Club have seen an upsurge in demand for stables. Polo makes a return to the South East Asian Games for the first time since 1983 when Thailand hosts the event in December 2007. Naturally teams are keen to play in Thailand prior to the SEA Games, and it is hoped that the South East Asian Polo League will provide this opportunity.
POLO ELEPHANT ATTACKS BUS
Sometimes your polo elephant can run off the field and charge head first into a mini van. This was the case recently in Sri Lanka during the annual elephant polo tournament. No one is dead, but the elephant may have a headache -- http://www.msnbc.msn.com/id/17187537/from/ET/ -- It is not uncommon to have interesting situations occur on the elephant polo field as has been noted previously in Thailand.
KUPPA WINS THE PINK PIG
17-18 February 2007 Siam Polo Park hosted the Chinese New Year Tournament. It was a very evenly matched tournament between the three teams of Polo Escape, Kuppa, and SPP. Susy designed very special uniforms and blankets for her team complete with Lion Helmets for the Polo Escape "Red Pig Team" (because this is the year of the Fire Pig). The Kuppa team had a host of assorted players from Jaime to Churo to newcomer Khun Pietoon Kamta. SPP was in the capable hands of William with
young Sean in his first polo tournament. Polo Escape took the lead on day 1 after losing by one goal to Kuppa; SPP then beat Kuppa, and then Polo Escape beat SPP by two goals. Day two saw Kuppa charge into the lead against Polo Escape with their substitution of Churo who robbed Susy of a goal in its final inches before the line. SPP then had a very fine victory over Kuppa, but not as much as William would have liked. This saw Polo Escape then beat SPP again with a final score of 7-4. Last year was the Year of the Dog, and this year is the Year of the Pig (Ding Hai). The winning team was presented with a Trophy and a PINK PIG to mark their Chinese New Year victory. SPP Official Photographer Hugh Denholm was on the scene and has contributed his photos to share with everyone. Thank you Hugh.
Final Scores (over two days)
POLO ESCAPE vs KUPPA: 1-4
KUPPA vs SPP: 4-5 (i think)
POLO ESCAPE vs SPP: 7-4
Teams
First Place: KUPPA - Robin, Jaime, Eric, Marco (substitutes: Churo, Pietoon).
Second Place: POLO ESCAPE - Susy, Tom, Joaquin, Matias.
Third Place: SPP - William, Sean, Pedro, Peter.
VR SCOUTS ATTEND TOURNAMENT

There was a rather clandestine team of scouts from the VR Sports Club noted at the sidelines of the recent Chinese New Year "Battle for the Pink Pig" Tournament.
At first, no one was quite sure what the purpose of this mysterious scouting team was for, but then when Kuppa took to the field for their final two chukkas against Polo Escape we discovered that there was a recent substitution on the team with Khun Pietoon Kamta replacing Churo. Khun Pietoon played very well, so we had some words with him after the game and learned that he comes from Sisaket, has two boys (age 6 and age 2) and has been playing polo for almost one month. This was probably the reason for the mysterious scouts from VR standing by at the field. The scouts are working hard with the Thai National Team in preparation for the S.E.A. Games, and they are always on the look out for good Thai Polo Talent. This requires that they have to scan all of the polo fields in Thailand and review as many horses and players as they can. Sometimes, they play some chukkas, and sometimes they just drink mate and look around. However, it will be very interesting to see if Khun Pietoon may find his way onto the Thai National Team in light of certain recent events.
INTERVIEW WITH THAI NATIONAL TEAM
We had a chance to meet some of the players on the Thai National Team as they were practicing with their Coach at VR Sports Club. The current line up includes: Tal (Apichet Raksriaksorn), Top (Aiyawatt Raksriaksorn), Noo (Chanotai Songvanich), Tumb (Camperito), and Tsu (Thanasin Chuawangkham). Khun Tal says that they are now concentrating on playing as a team and game play tactics on how to fill their positions and back each other up druing the game. Up front, Tal says, the Forwards have to coordinate, so that one can ride off and the other can take the ball. It is all about understanding and communication. In the back, if one player goes up, then the other has to stay. This is the National Team's focus at the moment. They are headed to UK to practice in June, July and August. The Team Coach Gustavo Yanez has been working closely with polo professionals Simon DiPaolo and Pepperoni to test the Thai National Team on the field. They are making very good progress in preperation for the SEA Games in November 2007. We are still not sure if the SEA Games will be 2 goal or 4 goal handicap. Standby for more news.
Simon DiPaolo and "Terramoto" Santos Anca
The gaucho Terramoto recently left for Argentina. He came with Simon DiPaolo to play in the King's Cup. It was Simon's first trip to Thailand, and he has recently graduated from University in Argentina. Santos is one of the great polo legends in Thailand, and in his final goodbye, he honored all of us by playing in the Expedition Cup. Cabeza Grande and Santos played together on the Thailand team during the King's Cup, so there was a fierce battle between these two during the Expedition Cup. Santos is also very pleased to have joined the elite group of gauchos who have ridden the Caballo Mechanico for 1 minute. Simon will remain in Thailand to help train the Thai National Team.
Interview with Flaca & Pepperoni
Siam Polo News was invited for an interview with El Campeon de la Vida and his girlfriend Flaca where we discussed many new Refrans and celebrated the closing ceremonies of the Expedition Cup. Flaca has just returned to Argentina, so we sent her off with, well...., an expedition! This interview coming soon, as well as a status report on the successful riding of the Caballo Mechanico -- with two newly doma-qualified gauchos (Santos & Rata) joining the ranks.

BLACK DOG TAKES THE "EXPEDITION CUP"
04 February 2007 Los Hermanos Yanez led a commanding performance on the field to capture the first playing of the "Expedition Abierto Cup" in Thailand. Khun Top led a very strong team with the trembling presence of
Terramoto Santos Anca in the first match against Khun Tal's team with Pepperoni, DiPaolo and Bun. The battle went back and forth with Top and Terramoto coming out on top 5-4. The second game with Khun Top against Black Dog saw another even match with fierce interaction between Terramoto and Cabeza Grande, but Black Dog came out on ahead 5-4. The final match between Khun Tal's team and the Black Dog was even hotter. Simon DiPaolo led a determined charge on the special horse named Criolla with many enlightened clashes between Pepperoni and the Black Dogs, but the final bell saw a score of 6-3 for Los Hermanos Yanez and the Black Dogs to claim the coveted "Expedition Cup." Maria Power was on hand to present the volando prizes to Equipo Perro Negro. Khun Noo received Man-Of-The-Match for his Nearside under-the-neck goal in the final seconds. Thank you VR Sports Club for an enjoyable tournament.
Equipo Top - Top, Terramoto Santos, Tsu, Bun.
Equipo Tal - Tal, Pepperoni, Simon DiPaolo, Thum.
Equipo Perro Negro - Gustavo, Daniel, Tom, Noo.
THAILAND WINS KING'S CUP 2007
21-27 January 2007 King's Cup action returned to Thailand at VR Sports Club. This was the first time that Brunei and Philippines have ever sent a team to Thailand. Singapore returned fresh from their victory at the Ambassador's Cup. Thailand has never lost a King's Cup Tournament. Indonesia team cancelled (replaced by Thailand B). Malaysia has been playing polo for over 100 years, and this year sent two polo teams to two different clubs in Thailand.
Group 1: Thailand, Malaysia, Thai B -- Group 2: Brunei, Philippines, Singapore
Sunday 21st -- Brunei vs Philippines (4 chukkas) Score: 7-9 Thailand vs Malaysia (4 chukkas) Score: 10-5.5 Monday 22nd -- Brunei vs Singapore (4 chukkas) Score: 6.5-8 Thailand vs Thai B (4 chukkas) Score: 6-3 Tuesday 23rd -- Philippines vs Singapore (4 chukkas) Score: 4.5-10 Wednesday 24th -- Malaysia vs Thai B (4 chukkas) Score: 7-4.5 Thursday 25th -- Brunei vs Thailand Friendship Match Score: 6-7 Sub Final - Philippines vs Malaysia (4 chukkas) Score: 3.5-8 -- Man of the Match was Tengku Shazril for his outstanding performance, stick skills, teamwork and sportsmanship on the field. Saturday 27th -- Final - Singapore vs Thailand (6 chukkas) Score: 5-12 Excellent playing conditions at VRSC and rain at the Siam Polo Park field is one of the reasons that the tournament is being held at VRSC. It has been a tournament with some very talented players meeting from different parts of the world. It is exciting to see Brunei and Philippines competing in Thailand, and it is a propitious moment for Thailand in preparation for the SEA Games in late 2007.

FINAL STANDINGS -- THAILAND WON KING'S CUP

for fifth straight year in a row. Singapore team replaced an injured player and stayed in the game. Man of the match was Damien Johnston for "outstanding courage under fire" - he performed with great optimism, cheer and sportsmanship.

The Sultanate of Brunei and Singapore teams will be returning for SEA Games 2007

The energetic Malaysian Team with new member "Yusof" -- Tengku Shazril "Commentator's Man-Of-The-Match"

A very enthusiastic Philippine Team from Manila -- complete with a hidden map (which wasn't much use in Thailand).
MERCEDES-B.GRIMM PRIVATE TOURNAMENT
24, 25, 27 January 2007 The Thai Polo Club held a private tournament. The 24th and 25th were open days to the public, and the 27th was by invitation only. The purpose of the tournament was to promote the new residence at the Horseshoe Point. Malaysia, Greece and Thailand were competing in this tournament. The standings after Day 1:
Thai vs Greece (2 chukkas) Score: 4-1
Malaysia vs Greece (2 chukkas) Score: 5-1
Thai vs Malaysia (2 chukkas) Score: 2-1
The first day proved that some very exciting polo. The Thai team looking very strong with Bachamann from Argentina at #2. The Malaysian Team was also looking very strong with Edham Shaharudin (from Royal Selangor) at #4, Sheikh Reissman (from RS) at #3, Mohammed Moiz (from RS and Royal Pahang) at #2, and Amran Selamat (from Royal Pahang) at #1. Thailand won the tournament.
NEW YEARS CUP
On 07 January 2007, there was a very enjoyable tournament at VR Polo Club for the New year. There were two matches, with two teams from each of the Siam Polo Park and King Power. The first match was between two 0 goal teams - with Siam Polo Park just pulling by with a one goal victory over VR club. The second match was a "Hi-Goal" match with Siam Polo Park fielding a 6 goal team, but being soundly beaten by VR. The match was followed by a delicious asado and some annual haircutting of Pedro and Daniel Yanez to celebrate their birthdays.
CAPTION CONTESTA
1. Who can guess what Jamie Woodward might be saying to Pepperoni as he goes for this off-side backhand during the Ambassador's Cup at Siam Polo Park?
2. What is the reason that Jamie might want to say something to Pepperoni at this particular moment?
3. What is the name of the piquerdia that "el campion de la vida" is using in this instance?
Email your answers to info@siampolonews.com and the best answer gets a free t-shirt.
SINGAPORE WINS THE AMBASSADOR'S CUP
15-17 December 2006 Siam Polo Club hosted an exciting inauguration of what shall certainly become a splendid polo tradition in Thailand - The first Argentinean Ambassador's Cup in Thailand presided over by His Excellency Felipe Frydman. Singapore led a commanding performance on the field amidst 3 other very equal teams. All the games were close, and everyone enjoyed a most exciting display of polo. SINGAPORE Polo Club is one of the oldest polo clubs in Southeast Asia. Their team also had one of the highest handicapped players in Asia -- Sattar Khan from Pakistan -- and then fielded a very impressive array of talented players including Scott Macreery and Steve Wyatt and their secret weapon Yuo Kuo Lee with over 40 years of polo experience in Singapore. INDONESIA replaced some of their players with some of the stars from the ACT Tango Cup team -- Churo, Susy, Marco, and the short-haired secret weapon called Matias. Apparently there was a communication misunderstanding between Thailand and Indonesia, which led to the lack of Indonesians on the Indonesian team.

KING POWER

team came from VR Sports Club. Khun Top had just returned from Argentina where he was playing 22 goal polo with Adolfo Cambiaso - who many consider to be the best polo player in the world. This team also had the steady hand of Pepperoni and the very talented young Tsu. We also had a late entry armada secreta -- the younger brother of Cabeza Grande -- Daniel Yanez. You could feel the earth tremble even before the game began. BLACK DOG was the newest polo team in Thailand, but that didn't fool anyone, because there were a lot of old dogs on the team. Khun William from England previously led an impressive performance in the Tango Cup. The very famous Eric Butter was the first Thai polo player to shave his armpits to achieve what he calls the "sanfter schlag" (smooth stroke), and Jamie Woodward brought much experience from his years of commanding The Blues & Royals British Cavalry Polo Team. DINNER Argentine Asado on Saturday evening followed the game.

SCHEDULE
Friday 15th
15:00hs: Black Dog vs Indonesia.

TIE / 4-4


16:00hs: VR Sport Club vs Singapore.

KING POWER / 8.5-6


Saturday 16th
15:00hs: VR Sport Club vs Indonesia.

INDONESIA / 5.5-6


16:00hs: Singapore vs Black Dog.

SINGAPORE / 9-6.5


Sunday 17th
15:00hs: VR Sport Club vs Black Dog.

KING POWER / 4.5-4


16:00hs: Singapore vs Indonesia.

SINGAPORE / 5.5-5


*Team handicaps will be applied during the tournament, and the total number of goals scored will determine a team's ranking. Over the three days, every team will have the chance to play against every other team.
Singapore Team - Sattar Khan(5), Scott Macreery(1), Yuo Kuo Lee (0), Steve Wyatt (0).
Indonesia Team - Susy Lourvanij(-2), Churo Pellegrini(1), Marco Focaccia(2), Matias Orlando(2).
King Power Team - Top Raksriaksorn(0), Daniel Yanez(1), Tsu Chuawongkum(0), Nicolas Pepperoni(2).
Black Dog Team - Jamie Woodward(1), Tom Claytor(1), Eric Butter(1), William Roberts(2).
The idea for this cup originated from Marco Focaccia. Marco paid a courtesy call on behalf of Siam Polo Park to His Excellency, Felipe Frydman, the new Argentinean Ambassador to Thailand in May of 2006. He was invited by His Excellency to dinner shortly after that, and Marco suggested that The Ambassador might wish to consider presiding over a tournament at Siam Polo Park called "The Ambassador's Cup." His Excellency was greatly pleased at this request. The Ambassador's Cup is presently a 5-6 goal tournament. The 4 teams competing in this cup were mounted by Siam Polo Park and VR Sports Club. Grateful thanks to His Excellency and the two polo clubs for this fun event.
ACT WINS THE TANGO CUP
17-19 November witnessed some high-action low-goal polo at Siam Polo Park as the illustrious "Tango Cup" was taken by ACT Polo Team. The Tango Cup is Thailand's Beginners Cup where new and experienced polo players join together in a fun-spirited tournament to gain experience and to entertain spectators. This year, there were 4 teams: NUSANTARA, DELI BEAN, KUPPA and ACT. Kuppa and ACT emerged as early leaders on day 1, but the Indonesian Nusantara Team were playing for the first time in their new shirts, and they soon came onto form playing very fast polo on day 2 with a very narrow loss to Deli Bean. With William missing on day 2, ACT trounced Kuppa, and on day 3, Nusantara came on fire when Bowo showed up and defeated Kuppa. The final game was a very close and exciting match between ACT and Deli Bean with ACT having accumulated enough points in the tournament to emerge the clear winner. There was a delicious Argentinean Asado at the club on Saturday night with many local polo fans and His Excellency Felipe Frydman the Argentinean Ambassador gracing the event. Everyone was pleased with a splendidly organized tournament and with thanks to the horses kindly provided by SPP, King Power, Kuppa, and ACT. The next tournament will the the Ambassador's Cup in December, with the trophy to be presented by His Excellency, The Argentine Ambassador. FRIDAY 17nov2006: 15:00 hs - KUPPA vs DELI BEAN / 16:00hs - ACT vs NUSANTARA. SATURDAY 18nov2006: 15:00 hs - DELI BEAN vs NUSANTARA / 16:00 hs - KUPPA vs ACT. SUNDAY 19nov2006: DELI BEAN vs ACT / KUPPA vs NUSANTARA.
AUSTRALIA-THAILAND FRIENDSHIP GAME
By recent accounts from Pepperoni, the Australia-Thailand Friendship game was a thriller. Final score was 5-5. Good weather at the VRSC. King Power hosted the tournament and Khun Wood says that it was a very good visit by "The President of Australian Polo Club (sic)" Peter Prendeville from Perth, Australia. The game was held on Sunday 29 October 2006 at VR Sports Club and the field looked in perfect condition after the game.
NEW CANCHA
In keeping with Thailand's tradition of having the highest per capita number of polo fields per player out of perhaps any other country in the world, we are pleased to report that Thailand now has its fourth polo field. This new field is slightly to the East of Siam Polo Park and Thai Polo Club. So, if you are coming to Thailand, bring your polo stick.
WAT PA ARCHA TONG
About 20 kilometers Northwest of Mae Chan in Northern Thailand is a very special Temple nestled in the mountainous jungle called Wat Pa Archa Tong. The Abbot in this Temple was a former Thai boxer, and he takes in orphaned and difficult children from near the Burmese border and teaches them the "skills of life." The Abbot has 200 sturdy Thai horses which the young monks use to collect alms in the early morning, and in the evening, they are all practicing their "Muoy Thai" boxing skills in the boxing ring. This "tough love" that the Abbot has initiated, has been wonderful for these children and allowed them to build character and confidence in this vast and beautiful wilderness. At 6AM, the young monks and their elder leaders climb on their horses and head off into the mountains. It is surely one of the most enchanting images of man living in harmony with nature that you can find in Thailand today. A Dutch company has recently made a feature film about life in this far corner of the world -- www.buddhaslostchildren.com/index2.html
ELEPHANT POLO in NORTHERN THAILAND
This year the elephant polo was held in Chiang Sen in Northern Thailand's Golden Triangle region bordering Burma and Laos from 4-10 September. There were 12 teams participating, with new teams from Italy, USA, 4 Seasons, and Sweden. Mercedes was back in fine form, DHL had Angad's brother at the helm, Angus Estates had some new guns, Chivas changed their name to "Thisisthelife.com," the Tickes and the All Blacks had improved tremendously. It was a splendid event with "Thisisthelife.com" winning on the final day after heavy rain in a penalty shootout and raising over US$35,000 for the Elephant Conservation Center in Lampang. Thank you Anantara for a fine event.
THAI POLO SUMMER SEASON
As reported by Khun Wood: "Thailand Polo Team won Chakkravarty Cup in England for the second time. Thailand Polo Association [TPA] arranged team joint Prince Williams in Chakkravarty Cup on June 17, at HAM Polo Club in England, Vichai Raksriaksorn, The President of TPA said. This is the second year for TPA joins that charity match and also the second year for the winner that they can win Dubai team with the score 7 : 5.5 (last year Thai Team won Dubai with the score 7: 6.5), Aiyawatt can run for 5 goals, Vichai 1 and the last one is from Adolfo Cambiaso. Thai Team players are Vichai Raksriaksorn, Aiyawatt Raksriaksorn, Adolfo Cambiaso – The number one polo player of the world, and Prince Williams, who ever join Thai Team last year. Dubai Team players are Ali Albwardy- Chairman of HAM Polo Club, C Reid, M Al-Yabhouni and A Diaz- Alberdy. Except the Chakkravarty Cup, TPA set the team to join other 4 matches in this period. There are RCBPC 12 Goal Challenge Cup (31 May – 11 June), Royal Windsor Cup (4-25 June), Eduardo Moore Tournament (27 June – 9 July) and Cowdray Park Challenge Cup (31 July – 6 August)."
SIAM POLO ACTION
POLO GEAR - Khun Bib was one of the early Thai polo players in Thailand. He has recently passed away. His wife, Khun Nong, wanted to give his polo equipment to someone who is enthusiastic about polo. Friends of Khun Bib's decided that the best person to receive Khun Bib's polo gear would be Khun Tsu - the stable manager at VR polo club. He is a young enthusiastic Thai polo player who embodies the spirit of Khun Bib and will be a fitting recipient to carry on the Thai polo tradition. Congratulations Khun Tsu. The equipment was given to Khun Tsu on 31 Oct 2006.